Taylor Swift's New Song is Dubstep… And It Works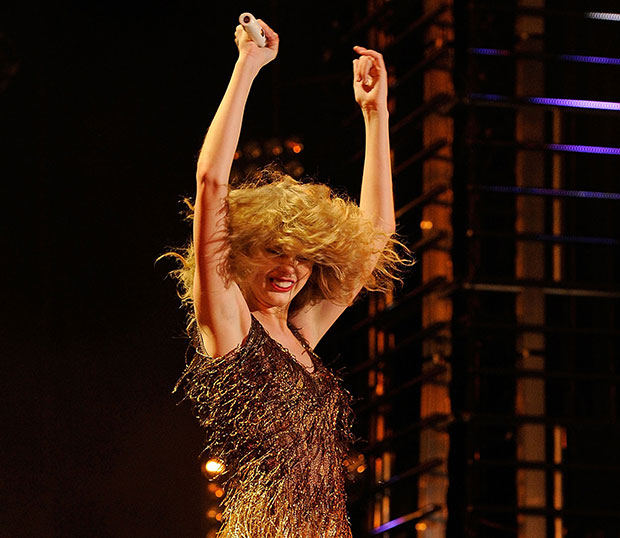 What happens when you mix Taylor Swift and the musical genre dubstep? That may sound like the beginning of a joke, but thanks to Tuesday's release of Swift's latest single, it's actually a legitimate question.
"I Knew You Were Trouble," another song from Swift's upcoming album, Red, debuted last night and it sounds nothing like what you'd expect. Fresh on the heels of the Max Martin-produced pop hit "We Are Never Ever Getting Back Together," the new release includes dubstep elements in the chorus.
For those of you unfamiliar with the genre, here's a brief history of dubstep (you're welcome). Dubstep is a type of electronic dance music that is known for its heavier sound and reliance on bass and drums, sometimes incorporating vocals. Originating in the U.K. in the late '90s, dubstep rose to popularity in the U.S. in the last few years when producers began to fuse elements of dubstep with heavy metal to create the style Brostep, for which Grammy-winning artist Skrillex is known. As dubstep began to influence some pop artists' work, the genre enjoyed a rising mainstream popularity. For example, the dubstep fanbase loved pop artist Ellie Goulding way before "Lights" ever hit the radio in the U.S. (thanks to DJ/producer Bassnectar's dubstep remix of her hit), Alex Clare's dubstep-influenced "Too Close" hit No. 8 on Billboard's Hot 100,  and more and more commercials are now getting the dubstep treatment.
Now that we've got that out of the way, let's get back to Swift's surprising foray into the genre. When Swift tweeted last night that "I Knew You Were Trouble" was being released on iTunes, I had no idea what to expect. Certainly another epic story of a failed romance, maybe a couple "Wheeee's" thrown in for good measure. But when the chorus hit, and I heard that unmistakable wobbling bass, I was speechless. Taylor Swift, and… dubstep? Those were two words I never thought I would utter in the same sentence — ever!
Once I got over my initial shock, I was impressed. This works. But before all you lovers of dubstep and/or haters of Swift jump down my throat, let me explain my reasoning.
First of all, there is just the right amount of dubstep influence in the song (not too much, not too little). This isn't straight-up dubstep, this is a pop song with dubstep influences. Swift uses certain elements of dubstep in specific parts. For instance, by containing the heavier bass to the chorus, she gives the words an extra oomph, which is appropriate for the message she's conveying. When Swift debuted a teaser of the song on Good Morning America, she explained the inspiration behind it. "It sounds just as chaotic as the feeling was when I wrote it," Swift said. It's about "being frustrated with yourself" for falling for a person you know you shouldn't have. The dubstep elements add an edgier, harder sound that complements the words she sings.
Another reason why "I Knew You Were Trouble" works is because it shows how Swift is growing as a musician. She is trying out new genres and taking chances. According to Rolling Stone, after 2010's Speak Now, which she wrote all herself, Red is being co-written with hit-making scribes like Max Martin and Adele collaborator Dan Wilson. Swift wrote all the lyrics, but the resulting album is a mixture of many different genres, including this bass-heavy dubstep anthem. The eclectic nature of the upcoming album will surely keep on surprising listeners, and Swift certainly can't be accused of doing the same thing over and over.
And last, but certainly not least, this song works simply because it sounds great. Swift doesn't sound like she's trying something totally out of her skill set. It sounds natural; it makes me want to get up and dance. It's catchy… and it's been on repeat all day.
Watch Swift explain the inspiration behind "I Knew You Were Trouble" on GMA:
Give the new song a listen below and let us know in the comments if you think that Swift's foray into dubstep works for her:
Follow Sydney on Twitter @SydneyBucksbaum
[Photo Credit: Frederick Breedon IV/Getty Images]
More:
Pop Culture Debate: Who Is Taylor Swift's 'We Are Never Ever Getting Back Together" About?
Taylor Swift To Release New Album: What Should it Be About?
Taylor Swift and the Significance of 'Red'
From Our Partners:

Mila Kunis: The Sexiest Woman Alive's Best On-Screen Make-Out Moments — GALLERY
(Celebuzz)