Taylor Swift's 'Red' Has Huge First Week Sales: How Can She Catch Up To 'NSYNC?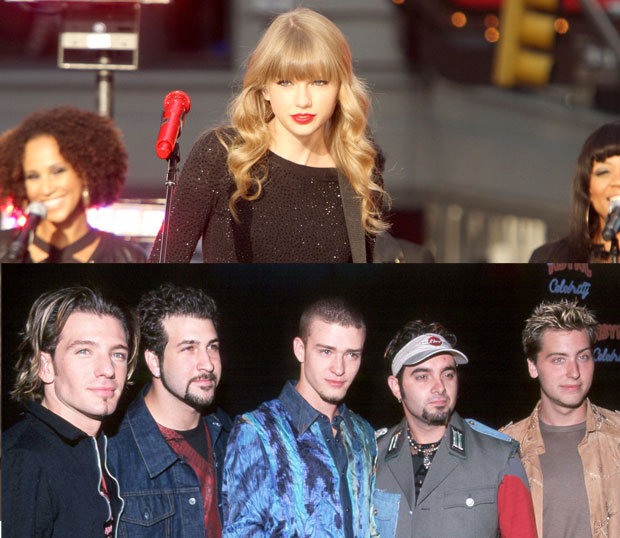 Taylor Swift may want to set her face to perpetual stun: the 22-year-old pop/country star just sold 1.2 million copies of her new album Red in its first week. It's a feat that hasn't been accomplished in 10 years, when Eminem moved 1.32 million copies of The Eminem Show back in 2002. "They just told me Red sold 1.2 million albums first week. How is this real life?! You are UNREAL. I love you so much. Thanks a million ;)," Swift tweeted in response to the news. 
Among the various jaw-dropping statistics
Billboard
released about Swift's
Red
, which "sold two albums every second last week in the U.S." and "accounted for 19.3% of all albums sold in the U.S. last week," is that it holds that eighth-largest sales week for an album in SoundScan's history and is already the third biggest-selling album of 2012, behind
Adele
's record-breaking
21
(which has moved 4.1 million copies this year alone) and
One Direction
's
Up All Night
(1.3 million). 
Still, there's one hurdle Swift wasn't able to get over. No, not finding the right boyfriend to settle down with, thus rendering the tabloid rumor mill and 90 percent of her songs ineffective. Rather, the chart-topper couldn't quite top the now-defunct boy band
'NSYNC
. The pop quintet still holds the all-time record for debut week sales when their 2000 smash
No Strings Attached
moved 2.4 million copies. 
While it's impossible for Swift to break that record now, that doesn't mean she can't have the same massive impact that 'NSYNC did post-No Strings Attached. Sure, she can't create a TRL-infused frenzy like they did (and, boy, don't you get the impression she and Carson Daly would have gotten along swimmingly?) but that doesn't mean she can't follow a similar model. 
Here are five possible 'NSYNC-inspired paths Swift can take now that she, too, is a Billboard legend. 
– Reinstate TRL to beat 'NSYNC's records on there. And Eminem's for that matter. If anyone can wield that power over MTV, it's Swift. 
– Hit Broadway, baby. Both Joey Fatone and Lance Bass took on iconic roles in shows on the Great White Way, Rent and Hairspray, respectively. With teen-friendly Hollywood A-listers (Daniel Radcliffe) and pop stars (Nick Jonas) alike getting in on the act, it seems like a logical move for Swift and a way to prove to skeptics that she can put on a live show. She's just begging to be the lead in Annie, no?
– Randy Jackson would love to have her as a guest judge on America's Best Dance Crew, dawg. Just ask, JC Chasez. (Seriously, someone go check on JC Chasez.)
– Get a haircut to make yourself resemble a pineapple. Hey, it "worked" for Chris Kirkpatrick. 
– Take over the pop culture industry as a whole. Open a restaurant, do a phenomenal job hosting Saturday Night Live and be asked to return repeatedly, give a brilliant supporting performance in an Oscar-winning drama (sorry, that means no more Valentine's Day), and splash your inevitable overblown nuptials all over the cover of People magazine. Of course, in turn,  this means you will have to utterly ignore and reject the musical career and supporters that made you a superstar in the first place. Hey, it worked for Justin Timberlake.
[Photo credits: WENN.com]
From Our Partners: