Taylor Swift Strolls With 'One Direction' Hunk Harry Styles… And a Baby?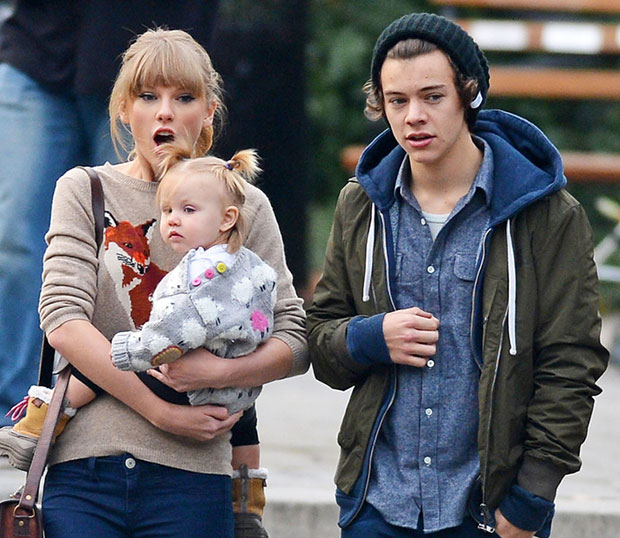 Rumor has it
Taylor Swift
already has a new boyfriend. (Expect a new song about him in three to four business days.) Just a few weeks after her reported split with
Connor Kennedy
, Swift is supposedly taking up with
Harry Styles
of
One Direction
. 
The chatter was ignited by Mario Lopez, who went on his radio show and claimed that Swift and Styles were "hand in hand" backstage at The X Factor, whatever that's worth. But if Swifty and Styles are looking to keep their supposed romance under wraps, they're doing a pretty awful job of it: they were spotted over, and over, and over again taking in the sights of New York's Central Park over the weekend as they ramp up to the 2012 Jingle Ball. The duo are looking mighty cozy, no?
And in this particular shot, the lovebirds have added another piece of intrigue to their recent romance: uh, whose baby is that? Now, you're probably making the same shocked Swift face she has down to an art form, but you can lock your jaw back up in its rightful location. The teeny toddler is the daughter of Styles' friend Lou Teasdale and his fiance, who were out strolling through the park with the pop star duo. 
[Photo Credit: Pacific Coast News]