Taylor Swift Turns 23, So Grow Up Already!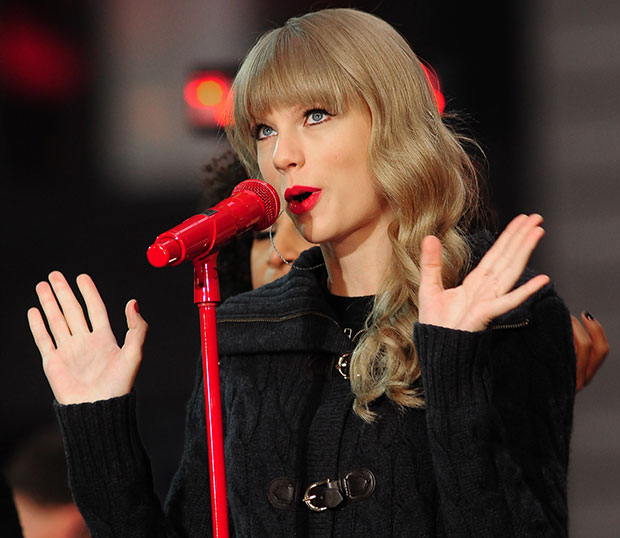 It's an especially good day to be Taylor Swift. While Ms. Swift generally lives in a world filled with kittens and butterflies and cupcakes (that is, when she's not lost in a post-breakup rage-induced haze), today is like, even more totally awesome. On this, the thirteenth day of December in the year two thousand and twelve, Taylor Swift turned 23 years old.
On Thursday morning Swift also received what she called the "best birthday surprise EVER": the news that "Safe and Sound," her collaboration with the Civil Wars for the Hunger Games soundtrack, has been nominated for a Golden Globe in the the Best Original Song category. Finally, because good things come in threes, the music video for Swift's single "I Knew You Were Trouble" premieres at 4:40 PM ET on MTV.
All those things and she's dating Harry Styles? Some people have all the luck.
While Swift is reveling in her perfect day, we've been doing a little bit of thinking. She is 23 years old now. This is the age when most people graduate from college, get their first real job, get their first real apartment, and generally become actual grown-ups. While Swift has been financially independent for some time now and ranks among the savviest of businesswomen (she is the highest-paid entertainer under 30), her general demeanor and personal decisions are akin to those of a much younger human. That being said, here are five things we would like Taylor Swift to do now that she is very much, officially, absolutely no longer a child.
1. Stop dating teenaged boys. First Conor Kennedy (who was a junior in high school at the time), and now 18-year-old Harry Styles. I know you've been burned by older men (ahem, Jake Gyllenhaal and John Mayer) in the past, but stop robbing the cradle already. You can do better.
2. Speaking of boys, stop pretending that your relationship status is the most important part of your life. Remember how in November you told Harper's Bazaar that you and your girl friends "never talk about fashion, about career, about our ambitions or our projects … We just talk about relationships, feelings, love, and boys"? That's not a good thing. Grown-ups talk about their ambitions.
3. Stop making this face. 
4. Learn how to drink a real drink — because not everything should taste like "candy and sparkles."
5. Find new pajamas. Seriously. Did you buy these at OshKosh B'gosh?
Maybe Swift's BFF, 19-year-old  Selena Gomez, who in the past year has starred in an R-rated indie film and broken up with her younger boyfriend, can help Swifty out. Hey, even Gomez's version of Swift's song "I Knew You Were Trouble" (see below) seems more adult than whatever Swift is sure to reveal in a few hours. [ADDENDUM: Okay, we've seen the video and we were wrong. It's very mature and actually rather good. Well played, TSwift.]
Follow Abbey Stone on Twitter @abbeystone
[Photo Credit: Dan Jackman/WENN]
More:
Taylor Swift Strolls With 'One Direction' Hunk Harry Styles… And a Baby?
Taylor Swift Rumor Mill: Jake Gyllenhaal and Harry Styles Are Her Latest Victims
Let's Play 'Taylor Swift or 1950s Etiquette Manual?'

Justin Bieber Murder Plot Foiled: Two Men Had Planned on Castrating and Strangling the Pop Star (REPORT)

Kim Kardashians Best Bikini Moments (PHOTOS)