'Teen Mom' Amber Portwood Begins Her Prison Sentence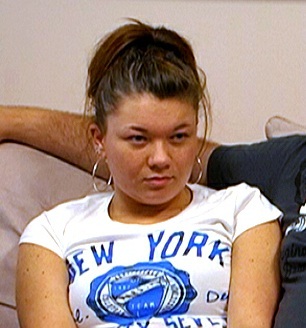 Teen Mom (the original cast, not the second set of girls) may be airing its final season, but it might not be the last we see of the show's troubled star Amber Portwood on TV. While Portwood has said in the past that she never wants to participate in the MTV series again, she may have found a new way to get herself on TV — only this time it wouldn't be from the comfort of her own home. Portwood is currently serving out a prison sentence at Indiana's Rockville Correctional Facility, the same prison where the Oprah Winfrey Network filmed the docu-reality series, Breaking Down The Bars. Ironic, right?
A prison official confirms to Hollywood.com that Portwood arrived at the facility on June 14. According to the official, Portwood is set to undergo an evaluation period that will last between four to six weeks — and that she won't be allowed visitors until that period is over.
So will there be a camera crew there anytime soon to follow Portwood's journey through prison? "I haven't heard anything from them [44 Blue, the production company that did Breaking Down The Bars] since they wrapped," Heather Robertson, Public Information officer for the Prison, tells us. "No plans yet."
Portwood's original five-year sentence was re-imposed on June 5 when she decided to drop out of her court-mandated drug rehabilitation program. Portwood was originally sentenced because she plead guilty to drug felony charges back in February.
Calls to OWN and Portwood's attorney have yet to be returned.
More:
Teen Mom Amber Portwood's Behind-Bars Interview — VIDEO