Thanks to Steven Tyler, This Could Be the End of the Celebrity Bikini Pic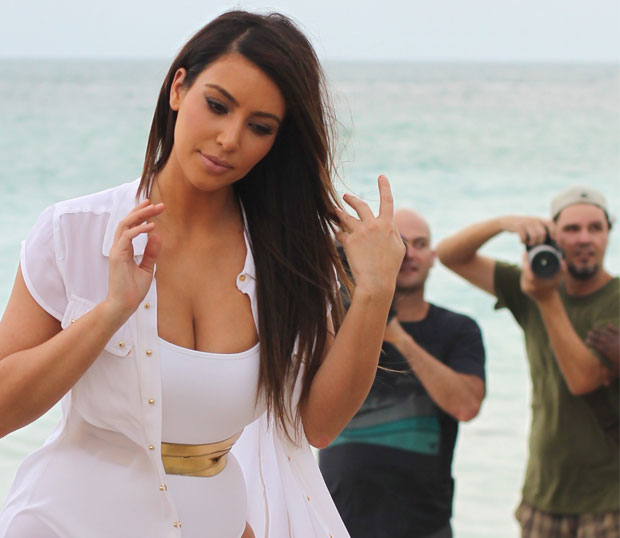 This is it. Scour the Internet for all the celebrity bikini pictures, stolen during leisurely strolls on the sand by hungrily snapping paparazzi, because if Steven Tyler gets his way, Hawaii may become the go-to celebrity haven for unperturbed (and undocumented) beach frolicing.
The AP reports that the "Steven Tyler Act" has gained the support of two thirds of Hawaii's state senators. If the bill becomes law, photographers can be sued by celebs who are angry about being captured in covert beach and Hawaiian island snapshots. The bill comes from a request by former American Idol judge and current American Idol nightmare-inducing contestant, Tyler, who just purchased a home in Maui. The measure is part of an effort to boost Hawaii tourism by offering celebs a place where they can splish and splash about without fear of having their relaxing days caught on film.
The idea is that stars will flock to the Hawaiian islands, eager for some shelter from the constant blinding bursts of flashbulbs, and for a time it may work. However, it doesn't really take into consideration the fact that tourists L-O-V-E to find locales that are most likely to deliver the highest concentration of celebrity sightings.
That's why clubs that offer celebrities "privacy" have lines down the block; the greater the privacy for celebs, the higher concentration of celebs in one place, the more fans will clamor to inch their way in. Then there's Instagram.
How far does this law reach? Will a 14-year-old teen with iPhone be subject to these suits? Or will our new bikini pic fix come in the form of grainy, "artsy" pictures with the Earlybird filter (to give it a nice, old-timey look) instead of crystal clear shots from a telephoto lens?
But let us not panic, yet. While the Steven Tylers and Kate Middletons of the world may seek refuge in Hawaii should the anti-paparazzi bill become law, we'll still have plenty of Rihannas and Miley Cyruses on our hands, waltzing around on lawless beaches in itsy-bitsy-teeny-weeny bikinis just daring photogs not to take their picture. Of course, if willing voyeurism isn't your thing, you may be S.O.L.
Follow Kelsea on Twitter @KelseaStahler
[Photo Credit: Splash News]
More:
In Defense of Miley Cyrus: Stop the Slut-Shaming
Destiny's Child's 10 Craziest Outfits: Will the House of Dereon Appear at the Super Bowl?
The Yoga Sutra of Miley Cyrus, on a Beach — PICS

Oops, Britney Spears Goes Braless Again — PHOTOS (Celebuzz)

30 Hottest Lingerie Scenes From the Past 30 Years — PHOTOS (Celebuzz)