The 10 Best Dressed Stars on the Emmys 2012 Red Carpet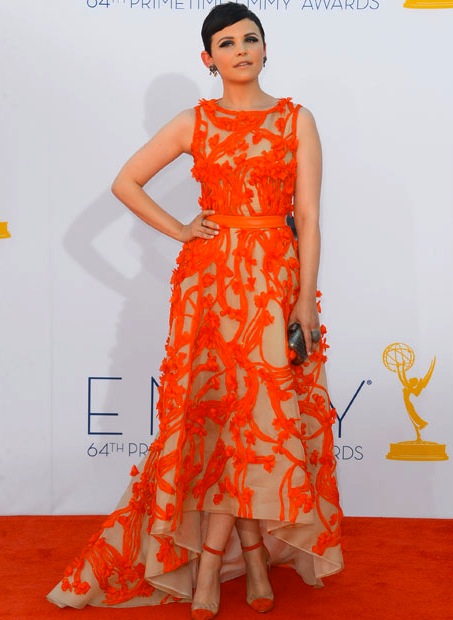 When you stop and think about it, dressing for the red carpet really isn't that hard. You have a team to help you, the dresses are free, and you just have to pick something that fits. But finding that perfect gown or tux — you know, the one that will land you on all the Best Dressed lists (like this one) — is a little trickier. You have to know your body and what flatters it, but also take a little bit of a risk. At the 2012 Emmys, those risks came in a number of guises, from bold color choices to loud prints and daring cuts. In the cases of some of our favorite ladies (and a few dapper gentlemen) the risks really paid off.
On the other hand (and I'm fully aware that I'm about to sound like a hypocrite), sometimes the key to ensuring an outfit home run is as simple as knowing what works best for you. Modern Family's Sofia Vergara wears a figure-hugging mermaid gown every time she hits the red carpet because hot d**n, girl looks good in a figure-hugging type of silhouette. And Mad Men's Jessica Paré knows that choosing something a bit more old Hollywood glamour is the best way to compliment her classic beauty.
Now, Best and Worst Dressed lists are always controversial, so we've thrown in a few picks that could really go either way. Let us know in the comments if you love or loathe these looks.
GALLERY: 10 Best Dressed Stars at the 2012 Emmys
Follow Abbey Stone on Twitter @abbeystone
[Photo Credit: Getty Images]
More:
Emmys 2012 Red Carpet: Who Were the Fashion Winners?
Gorgeous (and Gaudy) Emmy Fashion from the Past
From Our Partners:

Alessandra Ambrosio, Gwen Stefani, Kelly Ripa: 19 Muscular Mothers — GALLERY
(Celebuzz)

(Celebuzz)