The 10 Most Awesomely Ridiculous Tony Awards Performances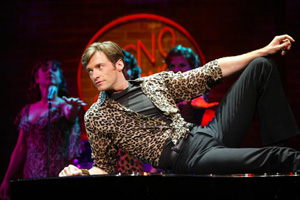 You know those nights where you just fall into a YouTube hole watching video after video in the "related" sidebar until you look up and it's 2 AM and you have nothing but a sore mouse finger and tired eyes? Well, when that happens to me, I'm more often then not watching clips of performances from musicals at the Tony Awards. Since stage shows are so rarely recorded, the Tonys offer us a rare occasion to get some of the greatest production numbers on tape. Since we're talking Broadway, the production is absolutely insane. Flying witches, men riding camels, dancing grannies, and tap dancing sailors. It's enough to make your mind absolutely dizzy (and giddy) with craziness.
Before we see Neil Patrick Harris' sure to be amazing opening number at Sunday's Tony Awards show, here are 10 of my all-time favorite, ridiculously amazing Tony Award performance numbers ranked in order of absolutely insanity. (And, no, I did not include Bret Michaels busting his head open on a set.)
Dreamgirls, "And I'm Telling You": Before Jennifer Hudson made it famous in the movie, this power ballad was belted out by Jennifer Holliday on the Great White Way. The only thing crazy here is how good her voice is.
Ridiculousness Rating: 1
Anything Goes, "Anything Goes": Who doesn't love sailors? Who doesn't love a huge tap number? Who doesn't love sailors in a huge tap number? There's a reason this Cole Porter musical picked up the trophy for Best Revival at least year's ceremony (and the tune is still stuck in my head). Oh, and don't be tempted to click on the Patti LuPone version that will pop up after you watch it. She can't hold a candle to Sutton Foster. (Blasphemy!)
Ridiculousness Rating: 2
Evita, "A New Argentina": Speaking of Ms. LuPone, check out her completely insane hairdo when she played the original Eva Peron back in the '80s. My favorite moment (thanks to Broadway legend Seth Rudetsky who pointed it out) is at the end when Patti goes to link arms with her husband but he's a step too far away and she totally whiffs. It's just a millisecond — but now that you know about it, you will always see it.
Ridiculousness Rating: 3
Sunset Boulevard, "As If We Never Said Goodbye": Now we're getting into serious camp territory with Glenn Close performing the big number from Andrew Lloyd Webber's doomed '90s musical. What I love is that there is this huge set filled with extras and props, but the only person moving or singing is Close. She is ready for her Close up, and no one better interfere.
Ridiculousness Rating: 4
Wicked, "Defying Gravity": Wow, this is our second Joel Grey introduction on the list, but by far the crazier production. I mean, one of the women is painted green and she's riding on a broomstick. This video was definitely an influence on Glee's Kurt Hummel in his formative years which explains a lot of his wardrobe choices. As insane as this is, try not to melt like a witch in water when Idina Menzel sours up in the air for her big finale.
Ridiculousness Rating: 5
The Producers, "Little Old Lady Land": Every wonder what The Rockettes will look like when they have walkers? No, I'm sure you haven't — but this musical does. We get Nathan Lane, Matthew Broderick, and a kick line full of knickers. There's nothing else like it.
Ridiculousness Rating: 6
Hairspray, "You Can't Stop the Beat": Who ever thought a movie by "Pope of sleaze" John Waters would be a crowd-pleasing, family friendly musical? Thankfully, they kept the crazy wigs, wacky costumes, and a drag queen hiding in a huge can of hairspray. There's nothing better than a song with a good tune and a better message… except maybe a drag queen.
Ridiculousness Rating: 7
Grey Gardens, "Revolutionary Costume for Today": This musical — based on a documentary about an eccentric (and possibly mentally ill) mother and daughter related to the Kennedy clan and living in squalor — wasn't a box office hit, but it did win Christine Ebersole a well-deserved trophy for her staunch performance bonkers recluse "Little Edie" Bouvier Beale. (Oh, and if you haven't seen Grey Gardens the documentary or the movie with Jessica Lange and Drew Barrymore, get yourself to Netflix, stat).
Ridiculousness Rating: 8
Into the Woods, "Children Will Listen": Into the Woods is probably Stephen Sondheim's strangest musical, and considering he wrote a show about a cannibalistic barber, that is some feat. This medley starts with the show's opening where a bunch of fairy tale characters (including a plastic cow) head into the woods and ends with Claire Huxtable, turning from a witch into a princess who sings the ballad "Children Will Listen." It's a tonal shift that you can't find anywhere else. And Jessica Fletcher introduces the song. I'm surprised someone in the audience didn't turn up murdered.
Ridiculousness Rating: 9
The Boy From Oz, "Not the Boy Next Door": OK, first we have Hugh Jackman in a leopard print shirt and bulgetastic tight gold lamé pants, riding a camel. To repeat: Hugh Jackman, leopard, bulge, gold pants, camel. Then he makes a penis joke. Then he gyrates all over the stage. Then he ambushes Sarah Jessica Parker (seated next to a pre-gray hair Andy Cohen) and drags her up on stage to do some gyrating of her own. I mean, this is Tony zaniness legend, right here.
Ridiculousness Rating: 10
Oh, because I couldn't leave this one out:
Cats, "Memory":
It is a woman dressed up as a singing cat!
Ridiculousness Rating: 11
Follow Brian Moylan on Twitter @BrianJMoylan
More:
Neil Patrick Harris' Tony Awards Promos: Part Broadway, Part Barney
Neil Patrick Harris Raps and Duels Hugh Jackman as Tonys Host