The 27 Horrors and Wonders of Dressing for the Red Carpet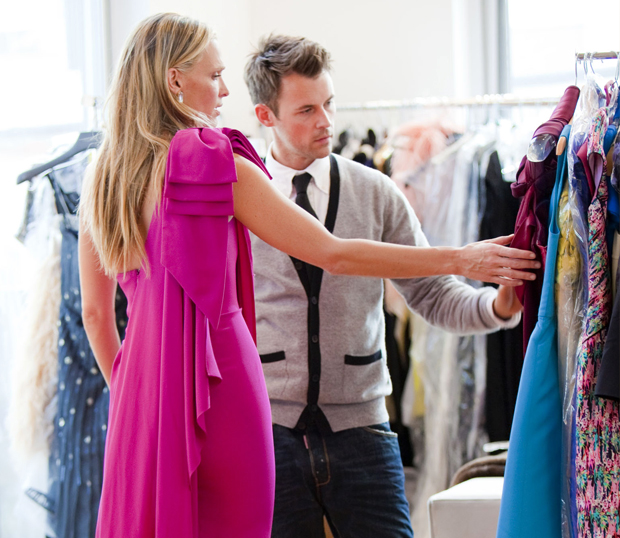 [Pictured Above: Brad Goreski]
It's no surprise that it takes plenty of time and effort for stars to ready for A-list events. (Those hairdos — and boobs — don't stay up by themselves!) But, while watching celebrities strut down the red carpet at awards show, we can't help but wonder not only who they're wearing, but what goes into what they're wearing. Luckily, stars don't dress themselves, and Hollywood.com tracked down two celebrity stylists — Robert Verdi and Brad Goreski — and one celebrity hair stylist, Ted Gibson, willing to share the secrets behind red carpet glamour. Below, read 27 crazy style facts you didn't know about the celebrity awards show style. They're both awe-inspiring… and awful.
Body makeup, an undeniable fad, wreaks havoc on dresses. "There is a lot of body bronzing happening," Verdi, who is styling Kathy Griffin for the Emmys, says. "It does get all over the clothes which makes me absolutely crazy of course. [But] it's not the type of problem that prohibits you from doing it. In a photograph with a lot of flash, the flash can make you look like a vampire. You want your skin to look it's a natural glow."Getting the best dress for the carpet is a popularity contest. "Getting one of the most desirable dresses is the product of the celebrity's power that season," Verdi says. "Are they on a good show? Are they a global celebrity or are they just a national celebrity? Are they already thought of as a fashion person? Are they getting covers? Are people talking about them? Is there buzz around them? AND are you nominated? If you check all the boxes… the designers want [their clothes] to be on a high profile person. Your currency is your popularity that season."Don't be too jealous: Celebrities don't get to keep the dresses. "The celebrities don't want it because they'll never wear it again," says Verdi. "If they are going to wear clothes out of these [new designer lines], they want what just came down the runway. Those are the original samples and go out on loan to the celebrity as if they were a magazine editor shooting it, [so the dress] comes back."Sometimes, there are accidents. "The only thing that can sometimes happen to the dress is a permanent alteration," Verdi says. "Most of these famous girls in Hollywood are tiny, so they all have to be altered, especially [in] length. They are not as tall as the models. So if you were to cut the length for the dress and the dress went back to the designer, and because the dress was seen on a popular celebrity, it's going to go out to a magazine for a cover shoot. If that were to happen and that dress had been shortened, then that would be a problem because the models would be too tall."And sometimes, the celebrities actually need to be sewn into their dresses. "I have sewn people into dresses," Goreski says. "Sometimes, you have to sew the top of the zipper. Sometimes they break last minute, buttons fall off, and you have to spring into action. I'm not the best at sewing, but I'm good enough to make sure my clients are fastened into their gowns."There are ways to keep the dress from exposing, ahem, sensitive body areas. "Double-sided tape — that always remedies that problem," Goreski says. "You strategically place it and always make sure that it's definitely secure and pray for no wardrobe malfunctions." The best dresses don't come out for awards shows. "Actually, the most expensive dresses come out for Cannes [Film Festival], more so than the Oscars, more so the Emmys," Verdi says. "When you look at Cannes, you see a lot more couture fabulous $30,000-$40,000 gowns than you do on the Emmys red carpet."Sometimes bras are built into dresses. "Sometimes you'll take a bra and sew it to the inside of the dress," Verdi says. "Many [stars] have corsets built in … so that she has the support necessary."
Purses are makeshift makeup kits for red carpets. "[Celebrities] always have to have their makeup touch-up stuff," Verdi says. "They usually have a blotter, and powder, and lips always with them. Credit cards and cash are debatable, they probably don't need it, maybe to tip somebody. They also always have their cell phones because they will be texting, tweeting, and instagraming."Next Page: Purse Problems and The Prep Process.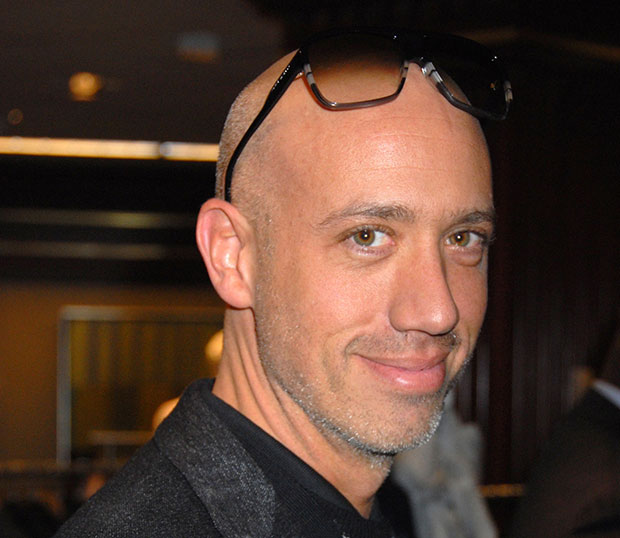 [Pictured Above: Robert Verdi]
Celebs sometimes refuse to carry their own purses. "They do carry them — [but] sometimes they hand them off to a publicist who is with them or walking them down the red carpet," Verdi says.
Not every Cinderella can fit into her slippers. "There's a little trick of putting a little bit of baby oil on your feet to make your shoes slip on much easier," Verdi says. "It's something all women can do."Celebs practice their picture poses. They're just like us! "No woman wants any part of her body to look misshapen or fat," Verdi says. "So you have to practice the pose in the dress. Do you look best with your hands on your hips or your hands down your side? How does the dress and your body look best together? The best thing to do is look in the mirror and pose so that they know what pose works best for the dress on the carpet."Stars require dress fittings before they walk down the red carpet. "Part of the wedding dress process is to make the girl feel comfortable," Verdi says. For red carpets, "it's usually one fitting and you'll do a second fitting the day before and make sure everything is seamed and done."Not everyone gets along during the preparation stages. "There's always a little tension between hair and makeup people [about] positioning a girls' hair and face," Verdi says. "Like, 'Stop turning her head this way,' or, 'I need her in this direction.'"Stylists have emergency kits. "The purse breaks," Goreski says. "Body makeup gets onto [dresses]. They get stained. That last one minute as you're dressing them, you're always nervous as the stylist that something can happen to the dress. That's why we come prepared with a kit filled with sewing kits and stain removers, everything that you can ensure that the dress will be perfect and red carpet ready."Celebs whiten their teeth for the red carpet. "Whitening is part of the routine for most people," Goreski says. "A teeth whitening is so accessible. I use Colgate Optic Toothpaste. The whitening process is very quick. You will see a change in five days. Having a beautiful white smile, is probably the best accessory nowadays."Stylists need inspiration too. "We pull together inspiration photos and sit down," Goreski says. "I usually show the gowns to hair and makeup people in a photo before, and in person the day of. We sit down with the client and discuss all our inspirations and show hair and makeup inspirations and decide what direction we want to go. Fashion magazines are a fantastic resource. Pulling inspiration from the Internet as well, whether [styles are] from the '60s or an important fashion icon or just a hair style briefly shown on the runways — it comes from all over the place. I usually pull them and present them to [stars] and edit which ones will work and which won't work."
Celebrities do get their hair washed the day of events. In fact, Ted Gibson, who is styling Girls' star Allison Williams for the Emmys, says it's actually a good idea to do a cold water rinse during the shampoo session. "When you go in for shampoo, make sure to put conditioner in and do a cool water rinse," he says. "What it does, it helps to seal the cuticle down after you shampoo. It also gives a lot of shine to the hair. For red carpet, I always feel like the girl's hair should be freshly shampooed."Next Page: More Hair Issues.
[Pictured Above: Ted Gibson]
Hair doesn't have to be dirty to create a proper updo. Gibson says the products do the trick: "I like to use my products to give it a little bit of volume. One product I use is called Build It Blow Drying Agent. It helps build upon each hair strand to give a lot of volume, so it's easy to put it up into a french twist or whatever I feel like."Like dresses, hair sometimes requires a test run. Stylists will try out a hairdo a few days before the actual event. "Just to get an idea how the hair should look for that day depending on what kind of dress it is," says Gibson.Hair always gets done before the makeup. "I do the hair first," Gibson says. "I set it and get it to where [the part is going to be]. I let it cool. Makeup gets done. And then after the makeup, I finish the hair."The hairdos sometime take as long as the ceremonies to execute. "It can take four hours," Gibson says.
Baby powder isn't just for baby butts. "Baby powder is one of my go-to products that I use to help to soak up oil or add a little bit more pull to the hair if I'm looking to add some volume at the scalp," Gibson notes. "If I put too much product in the hair, baby powder helps to soak it up."Sometimes, it's necessary to use both a curling iron and a straightening iron. When going for a wavy look, Gibson uses a curling iron and then follows it up with the straightening iron. "It can make it a little bit sexier so it's not as curly," he says.Updos are the hot trend for this year's Emmys. "You will [also] probably see a lot of hair that has texture to it, not so smooth, especially because everyone will be wearing designs from the fall," Gibson says.Hair accessories like clips and barrettes are good ideas. "I love hair accessories," Gibson says. "It's nice to have a little bling in hair and in your dress."And last but not least, one special kitchen ingredient can be used to help out in the hair department: vinegar! "You can actually put in a quarter size of vinegar into your favorite shampoo that helps to remove buildup on the hair and on the scalp," Gibson says.
Follow Lindsey on Twitter @LDiMat.
[Photo Credit: Wenn (2), Getty Images]
More:
Fiona Apple Arrested at Border Stop for Hashish
Robin Roberts Addresses Fans in a Heartfelt Video Prior to Bone Marrow Transplant
Amanda Bynes: 'I Don't Drink and Drive'
From Our Partners:

'Teen Mom': Catelynn Lowell and Tyler Baltierra are Filming Spin-Off — EXCLUSIVE
(Celebuzz)

(Celebuzz)