'The Audience': Helen Mirren Still Rules as the Queen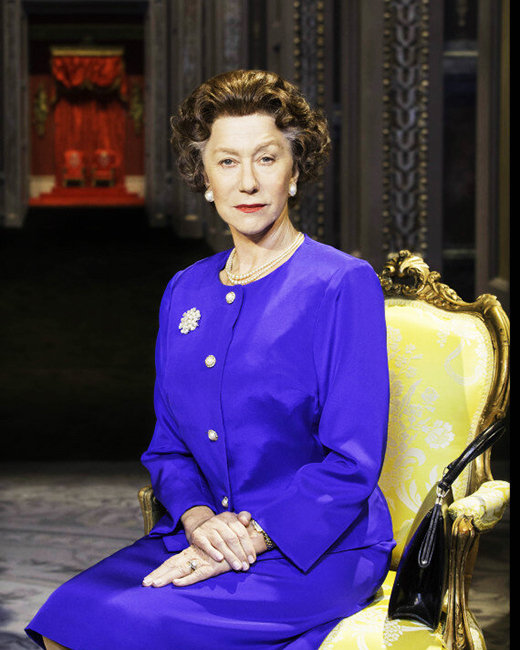 Will history look back upon the past 60 years as the Second Elizabethan Age? Stephen Daldry's production of The Audience answers with a Queen's English-accented "yes." The West End play that reunited Helen Mirren, in her Oscar-winning role as Elizabeth II, with the writer of The Queen, Peter Morgan, was finally available for New Yorkers to see when a live HD stream of the stage production screened as an exclusive engagement from National Theatre Live at the Brooklyn Academy of Music June 15. Considering the abundance of exciting theater in New York it may seem hard to imagine how a projection of a filmed play onto a movie screen could be "an event." Except that we still don't know if The Audience will ever cross the Pond. If it does, only the royal yacht Brittania could possibly stow all the Tonys it will win.
The Queen lives a life of performance. Being Sovereign is a role she's adopted in what may be the longest-recorded display of method acting in history, at least according to Morgan. The Audience takes us through all six decades of the Queen's reign, with the 67-year-old Mirren equally at home playing 26, Elizabeth's age upon assuming the throne, and 86. Mirren's changes in posture and bearing — from ramrod and regal in 1952 to stooped in 2013 — along with some padding and five different wig changes, sell the effect. She hopscotches back and forth through time, with each scene taking the form of her weekly meeting with the Prime Minister, a conference at Buckingham Palace the PMs refer to as "The Audience."
Morgan's selective with his presentation of history, grouping scenes thematically, rather than chronologically, and focusing on only eight of the twelve PMs who've served since the Queen's coronation. Nervous fussbudget John Major talks about using negotiating techniques he developed during peace talks in the Balkans to broker a truce between Diana and Charles, while Gordon Brown (played as an emotional wreck by former Inspector Lynley, Nathaniel Parker) vents about feeling overlooked by the Obama White House. The Queen finds an uncommon friendship in common man Harold Wilson, whose rough-and-tumble Labour views oddly intersect with her own, and tension, though not testiness, with Margaret Thatcher.
Mirren's one scene with Haydn Gwynne as the Iron Lady is remarkable in its subtlety. A lesser playwright would have scripted a scenery-chewing showdown between the Queen and Thatcher. What's conveyed instead is a strongly professional working relationship that could never become a true friendship. Morgan, Daldry, and Mirren aren't interested in tabloid sensationalism — her children are barely mentioned aside from Major's "peace talks" joke — but in revealing the Queen's character and personality through a recurring ritual, and how her conducting of that ritual reveals the ways she's changed over time. The maturation we see in the four years between when she first meets Churchill in 1952, when she's still wearing her mourning black and emotionally fragile, and the strong leader who confronts Sir Anthony Eden over his hawkishness during the Suez Crisis is a beautiful ripening. It's a prismatic view of a human life.
Artistic depictions of people in power often emphasize their "larger than life" status. But Morgan and Mirren show Queen Elizabeth as not so much a towering presence as a stabilizing force, symbolic of a continuity and grace that could never be found in party politics. "When you've been around for as long as I have," Mirren's Queen says in 2013, "The same ideas and people are bound to pop back up — just wearing a different tie." People generally think that history repeating itself is a bad thing, a sign that we're incapable of learning from the past. Watching The Audience, history repeating itself has never been more enlightening…or enjoyable.
Follow Christian Blauvelt on Twitter @Ctblauvelt | Follow Hollywood.com on Twitter @Hollywood_com