Home
Celebrities
The Beach Boys Lose Three Members: Brian Wilson, Al Jardine, and David...
The Beach Boys Lose Three Members: Brian Wilson, Al Jardine, and David Marks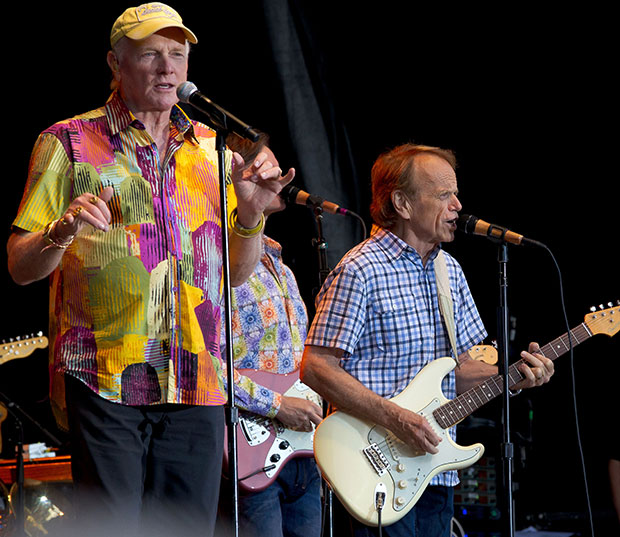 It doesn't sound like The Beach Boys' founding member Mike Love, who owns the rights to the band's name, feels like Brian Wilson, Al Jardine, and David Marks are made for these times. According to the Huffington Post, Love — who is also the band's frontman — and Bruce Johnston will be saying goodbye to Wilson, Jardine, and Marks after their reunion tour completes this week. The two announced that the dismissed members will be replaced by the band's backup crew (including Love's son Christian).
"The post-50th anniversary configuration will not include Brian Wilson, Al Jardine and David Marks," the statement reads. "The 50th Reunion Tour was designed to be a set tour with a beginning and an end to mark a special 50-year milestone for the band."
Besides the fact the the band is going their separate ways, the way in which the information was conveyed to the departing members seems off. Wilson, Jardine, and Marks reportedly didn't find out about their dismissals until after the statement was made. "I'm disappointed and can't understand why he (Love) doesn't want to tour with Al, David and me," Wilson told CNN. "We are out here having so much fun. After all, we are the real Beach Boys."
According to The Telegraph, Love made the decision based on financial motivations. "You've got to be careful not to get overexposed," he said. "There are promoters who are interested [in more shows by the reunited line-up], but they've said, 'Give it a rest for a year.' The Eagles found out the hard way when they went out for a second year and wound up selling tickets for $5."
Whether or not the decision was made based on finances, how can fans be excited to see these men dismissed so easily? The Beach Boys will never be the same without them.
Follow Lindsey on Twitter @LDiMat.
[Photo Credit: Mats Andersson/WENN]
More:
Steven Spielberg Opens Up About His Dyslexia
Pokemon Inspires Army to Create Frightening Seizure-Inducing Gun
Should Robert Pattinson Get Back Together With Kristen Stewart?
From Our Partners:

Russell Brand Blames Katy Perry Divorce on Incompatibility
(Celebuzz)

(Celebuzz)