The Best and Worst Moments from the AMAs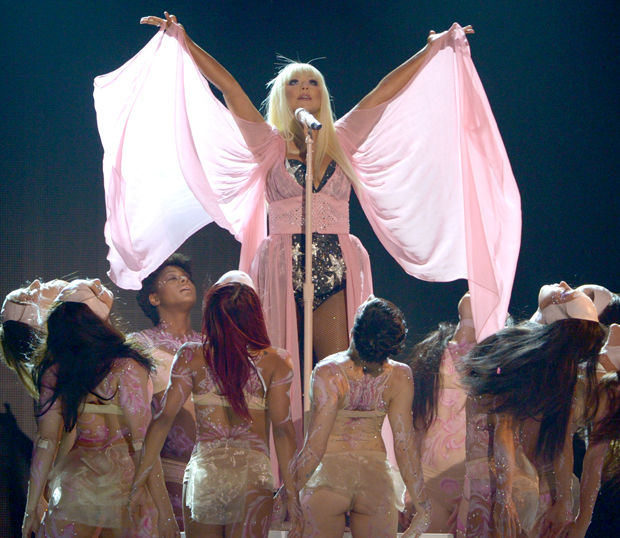 The Canada of American music award shows was certainly all the Canucks Sunday. The 2012 American Music Awards were mad for the likes of Canadian cherubs Carly Rae Jepsen and Justin Bieber, as the two dominated the awards alongside life-size Barbie doll Nicki Minaj. The performance-heavy show brought many of today's top musical talents. Much happened in the three-hour epic, but we here at Hollywood.com aren't afraid to be service-y, so we broke down the best and worst moments from the AMAs just for you. Let's dig in!
Worst Use of Leather Pants: Usher.
Worst Use of a Leather Shirt: Justin Bieber
Most Pompadour-y: Justin Bieber Jenny McCarthy
Best Use of Glitter: Taylor Swift
Most, Um, Spirited (?): Eric Stonestreet
Because Taylor had a purse, I tried to be helpful. And no, not drunk just tipsy.
— Eric Stonestreet (@ericstonestreet) November 19, 2012
Best 'Unimpressed' Moment: Ginnifer Goodwin (she's probably mad she didn't win the glitter award.)
Best Use of Eyebrows: The Wanted
Biggest Glee Fan: Randy Jackson and his tattered Dalton Academy blazer.
Most Spike-iest: Kelly Clarkson
Worst Use of Hair: Karmin and her Big Rock Follicle Mountain
Worst Use of Hemlines: Taylor Swift (or T. Swizzle, if you're a mom or someone who still thinks "izzle"-ing words is cool.)
Best Twiggy Impression: Ginnifer Goodwin
Worst Use of Words: Usher (Seriously, what did he say that was bleeped for that long?)
Best, Most Campiest Thing Ever: The "Let There Be Love" section of Christina Aguilera's performance.
Worst Use of Props: Pitbull and his oversized glow-sticks.
Worst Tan Mom Impersonation: Kari Wigton (aka Mrs. Dick Clark)
Best Use of Nonsense Words: Stevie Wonder
Most Humble Human on the Face of the Planet, Possibly Universe: Nicki Minaj
Best and Worst What Is This I Don't Even: MC Hammer and PSY performing "Gangnam Style."
What did you think of tonight's AMAs? Sound off in the comments!
[Photo Credit: Kevin Winter/Getty Images]
Follow Alicia on Twitter @alicialutes
More:
American Music Awards Winners' List: Will Rihanna Pick Up Top Honors?

'Breaking Dawn — Part 2' Star Peter Facinelli Moves On In New York; 'Twilight' Actor Grabs a Bite With Actress Jaimie Alexander (EXCLUSIVE PHOTOS & DETAILS)
(Celebuzz)

'Glee' Star Dianna Agron Talks Quinn's Thanksgiving Return, Kitty and Catfights With Santana (Q&A)
(Celebuzz)