The Best of Beyonce: Countdown to the Super Bowl with Bey's Top 10 Performances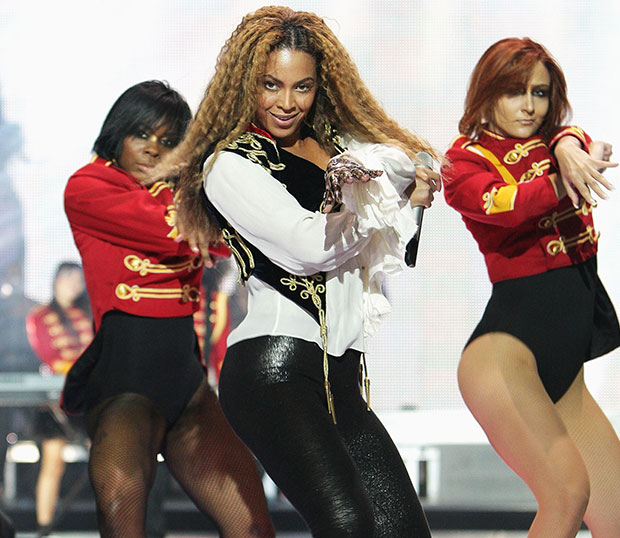 We are T-minus two days away from Beyoncé bringing down the house stadium with her totally-not-lip-synced Super Bowl halftime show and anticipation is rising to unbearable levels. To help tide you over until the big day, we have rounded up the very best of Beyoncé. It was no easy task to choose Bey's 10 most shining moments, but we think we've done it. Below are Beyoncé's 10 fiercest live performances. 
Warning: Videos may induce chills and tears. Watch at your own risk.
10. What a way to say goodbye. Destiny's Child killed it with their "Farewell Medley" at the 2005 World Music Awards.
9. Even with a cold, Beyoncé sounds better than everyone. At her "I Am… Yours" show in Las Vegas in 2009, Beyoncé melted hearts with her acoustic "Sweet Dreams" medley.
8. Is there anything sweeter than watching Beyoncé duet with the love of her life, Jay-Z? Watch this clip of Bey and Jay-Z singing "Forever Young" at the 2010 Coachella Music Festival and then try to say otherwise.
7. Could this be a prelude to what we'll see on Sunday? At the Dallas Cowboys' 2004 Thanksgiving game halftime show, Destiny's Child was accompanied by a military escort, a live marching band, and an abundance of pyrotechnics.
6. At the 2004 Grammys, Beyoncé teamed up with Prince for an unforgettable medley of "Purple Rain," "Let's Go Crazy," and "Crazy in Love."
5. At the 2005 Kennedy Center Honors' tribue to Tina Turner, Beyoncé said to the legend, "I remember the first time I saw you perform. I'd never before in my life seen a woman so powerful, so fearless, so fabulous. And those legs!" Right back atcha!
4. You had me at the slow chair swivel, Bey. Beyoncé totally took over the 2008 World Music Awards when she performed "If I Were a Boy" and "Single Ladies."
3. In 2009, Beyoncé was no longer a single lady (she tied the knot with Jay-z in 2008), but she still knew how to throw down like one. Beyoncé tore up the stage with her singature dance (alongside Glee's Heather Morris at the 2009 American Music Awards.
2. Who runs the world? Beyoncé. Bey proved this once again with her performance of "Run the World (Girls)" at the 2011 Billboard Music Awards.
1. At the 2011 VMAs, Beyoncé proved that she is the mother of all things fierce by ending her performance of "Love on Top" by showing her pregnant belly to the entire world. Cue the beginning of Blue Ivy hysteria.
And, just in case you were wondering, Beyoncé has been crazy talented her entire life.
Follow Abbey Stone on Twitter @abbeystone
[Photo Credit: Venturelli/WireImage]
More:
Beyonce Confirms Lip-Syncing (Boo!) and Teases a Tour (Yay!) at NFL Press Conference
Beyonce Heats Up Super Bowl Rehearsal — PICS
Beyonce and Jay-Z: The Other First Couple?
---
You Might Also Like:

Biden? Ford? Surprisingly Hot Young Pics of Politicians

Who Wore This Crazy Hat?

Stars Who Changed Their Look After Love