Home
Celebrities
The Celebrity Baby Photo Recession: Did Stars Price Themselves Out of the...
The Celebrity Baby Photo Recession: Did Stars Price Themselves Out of the Market?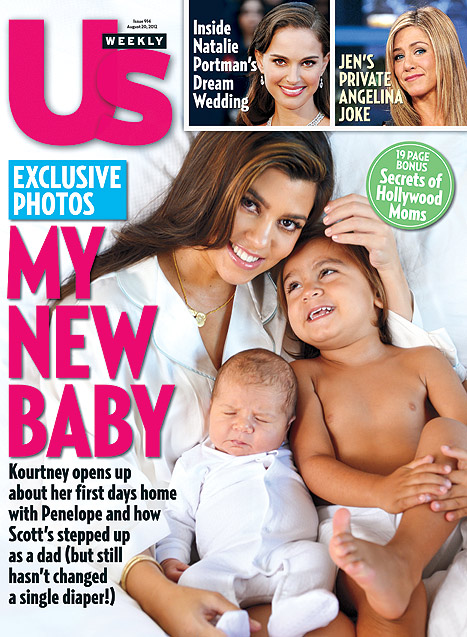 "My New Baby," heralds the latest cover of 
Us Weekly
 with a blissful, pristine photo of reality star 
Kourtney Kardashian,
son Mason, and newborn daughter Penelope.  
The celebrity magazine baby reveal has been a staple of the genre for years: In fact, we've seen it dozens of times in the past decade with A-Listers (Angelina Jolie and Jennifer Lopez), reality stars (Kendra Wilkinson and Bethenny Frankel) and scandalous stars (Jamie Lynn Spears and Octomom). 
"Readers love seeing the first pics of celebrities' babies," Dan Wakeford, editor-in-chief, In Touch and Life & Style magazines, tells Hollywood.com. "While readers don't necessarily know what it's like to be a star, having a baby is a universal experience that everyone can relate to."
But in the past few years, it seems there's been a marked decrease in the number of baby reveals on the covers of the celebrity weeklies.
Now, more and more celebrity parents like 
Beyoncé
 and 
Matthew McConaughey
 are choosing to show off their babies on social media and on their own web sites (for free) instead of going for the big payday. 
One reason for the downturn? Magazines aren't shelling out the big bucks they used to thanks to a shrinking economy and softer magazine sales.
"The market was larger back in the day," Richard Spencer, Editorial Director of the Celebrity Magazine Group (Star and OK! magazines) at American Media Inc., tells us. "The prices have definitely gone down across the board just because the market has come down. It's almost a waste of time for some celebrities to look for very high price tags because they're simply not going to get it." 
Spencer estimates that a group of shots like Kardashian's would go for something "in the neighborhood of $250,000" today. Still not small potatoes, but five years ago, magazines paid insanely high sums to show off those coveted first pics.
"The going rate for just the average celebrity baby back then – and we're not talking a Brangelina baby—was about $1 million," Jo Piazza, author of Celebrity, Inc., explains. "The last $1 million paydays were in 2008. Now celebs are lucky if they get six figures for those pics."
Business Insider reports that Brad Pitt and Angelina Jolie sold the pics of their twins Vivienne and Knox back in 2008 to People and Hello! for between $11 to $15 million. People also reportedly paid Nicole Richie $1 million for pics of Harlow in 2008, and Britney Spears banked a reported $500,000 for shots of her son Sean Preston in 2005.
A CHANGING ATTITUDE
There's also been a mood shift among more elite stars—is it déclassé to accept money for photos of your most precious creation?
"There was a lot of backlash against celebrities selling their baby pictures," Piazza says. "People started to think it was unfair, a little ridiculous for people to be capitalizing on their babies during the celebrity baby picture boom."
Now, "some A-list celebs think it looks a little tacky," she adds. "When people like the Kardashians are putting their baby pics on the cover, it loses some cache for Oscar winners to be doing it."
And that's why some A-Listers who we used to see on covers are taking a step back from the magazine lines and moving toward social media, which they can control.
"For celebrity brands, it's important that a consumer feels close to them," says Piazza. "By releasing pics on social media, you kind of feel like you saw one of your friend's baby pics. It makes readers feel a lot more intimately connected with these celebrities, and celebrities know that. They know that if they do that, if someone feels a connection, they will go see their movies, they will buy their CDs, and buy their perfumes. In the long run, it makes so much more sense."
And ultimately, bigger sums still go to those stars who can move magazine copies. And surprise — it's not always the A-List actors. Spencer notes that magazine publishers are more likely to spend a lot on celebs who are already proven cover stars.
"The Karadashians are going to sell more magazines than Beyoncé and Matthew McConaughey because that family is written about almost every week in all the celebrity weeklies, whereas Beyoncé and Matthew McConaughey aren't," he explains. And when it all boils down: "You have to go with who is selling."
More: