The Five Most Amazingly Outrageous Moments of the Miss USA Pageant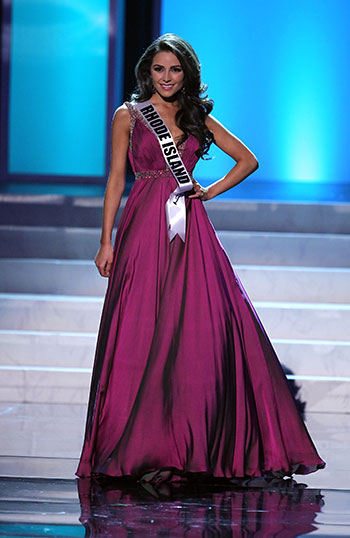 Here she is, Miss Amer — oops, that's the wrong pageant. Here she is, Miss USA, the winner of Donald Trump's annual beauty pageant and feeder to the coveted Miss Universe pageant. It's the representative from Rhode Island, Olivia Culpo! She took the crown thanks to her beauty, poise, a firey purpleish dress, and a wonderful answer to a question posed by you, the fans. At this time, I do not believe that Donald Trump has asked to see her long form birth certificate. 
For the first year ever one of the big questions at the end of the night was sent via Twitter, and the question was whether or not the contestant thought it was fair if a transgender woman won Miss USA over a natural born woman. Olivia had a graceful answer about thinking that it was fair because, basically, this is a free country and everyone deserves a shot. Thanks for not giving us a flashback to that whole Carrie Prejean brouhaha from 2009. While the winner was deserving, lets look at a few of the things from the show that were a little bit over the top.
The Names: While each of the ladies was absolutely stunning, some of them had some rather non-traditional names. Along with a slew of Ashleys, Jessicas, and Jamies, there was also Jaci, Kendyl, Nana, Rani, Ryanne (pronounced "Ryan"), Jazz, and (wait for it) Myverick. No, she was not from the great state of Alaska.
Product Placement: At times the telecast seemed less like a beauty pageant and more like a segment on QVC, but with even more fake jewels. During the two hours we were treated to mentions of the following products: Wal-Mart, Rain Cosmetics, Chinese Laundry, Kooney Austraila, Australian Gold, the Trump International Hotel, Australian Gold, Diamond Nexus, New York Film Academy, Farouk Systems makers of Chi and Bio Silk, and a host of places in Las Vegas including Carlos and Charles, Qua Spa, Bobby Flay's Chop House at Ceasar's Palace, KGP Kerry's Burgers, Buca di Beppo, Sugar Factory an American Barserie, Mandalay Bay, the Garden of the Gods at Caesar's Palace, the Venetion, and of course we all know it was telecast live from Planet Hollywood! There were more sponsors than at an AA convention. Damn, how much money did this put in Donald Trump's pockets. 
Nepotism: The hosts of the show were Bravo's Andy Cohen and E!'s Giuliana Rancic. Giuliana had some company from her show Fashion Police with Kelly Osbourne doing interviews and George Kotsiapolous serving as a judge. The other judges were Arsenio Hall (winner of Trump's Celebrity Apprentice), Rob Kardashian (whose show is on E!), Ali Fedotowsky (who hosts 1st Look on NBC), Cat Cora (a judge on Bravo's Around the World in 80 Plates), Dayana Mendoza (current Miss Universe), and Marilu Henner (an Apprentice contestant). Oh, and did we mention that both E! and Bravo are owned by NBC? The judge who didn't have an obvious link to NBC Universal or Donald Trump is Joe Jonas, and he's so fine we don't question his presence anywhere. Oh, and don't forget that Giuliana is married to the first winner of The Apprentice. The favoritism runs deep. So deep Arsenio Hall even asked a question name checking Andy Cohen's show Watch What Happens Live. 
Fun Facts: While each of the contestants who made the cut in the top 16 was called we learned some fun facts about them, and they were all totally crazy. "She works the lunch shift," "she can drive a truck in high heels," "she graduated from college in only four and a half years," "she has three NBA players in her family," "she has a pet goat," "she kissed a stingray for good luck." Wow, are these even real. 
Miss Ohio: OK, I was totally rooting for Miss Ohio, because she was for sure the most outrageous contestant. First of all she was the one who can drive a truck in high heels. Then she is the only one who wore a full gown and it was this canary yellow marshmellow monstrosity that looked just like what Belle wore in Beauty and the Beast but not nearly as floaty. It was the only one without bedazzles of all stripes and the announcer lady said she is "proud she's walking in that." And then, when Marilu Henner (who has a photographic memory) asked her if women are depicted well in movies and asked for an example. She replied that women are depicted well and cited Pretty Woman as her example. You mean the one about a hooker? That Pretty Woman? No wonder Rhode Island won.
More: