The Fonz, Blossom, and Schmidt Kibitz About Their Bar Mitzvahs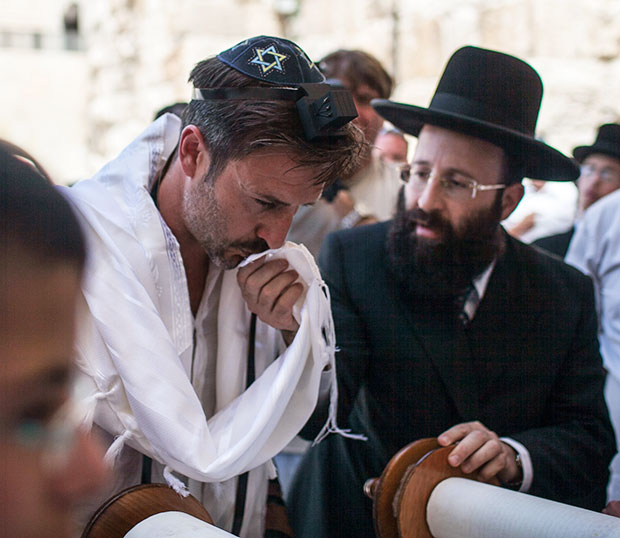 Ah, the Bar Mitzvah. The transition from youth to adulthood. The opportunity to adopt new responsibilities and perspectives. The pronouncement of your senses of personal and religious identity alike. And all in a venue that demands a game of Coke and Pepsi and a frenzy of karate-dancing to that "Cent, Dollar, Dollar" song. In short, the most important event in a young Jewish person's life.
And this sentiment isn't confined only to we lowly common Jews, no. Even the famous ones hold their own Bar Mitzvah ceremonies and celebrations in high esteem, mensches that they are. In fact, it was just yesterday evening that Henry Winkler — the coolest man to ever live (at least in the canon of the Happy Days universe) — publicized an admission of pride for the anniversary of his own Bar Mitzvah. Winkler took to Twitter on Thursday to commemorate the 54th anniversary of his personal rite of Jewish passage:
On this day 54 years ago I was BAR MITZVAHEDhere in NEW YORK
— Henry Winkler (@hwinkler4real) November 8, 2012Winkler's prideful expression of his segue into the chosen community has made us think back on other members of the tribe — those who have shared tales, or in some cases even more, about their Bar Mitzvah experiences.
On a 2009 episode of Inside the Actors Studio, guest Seth Green discussed with host James Lipton his Bar Mitzvah experience.
Earlier this year, Blossom star and The Big Bang Theory regular Mayim Bialik shared her memories of the event with Philadelphia's National Museum of American Jewish History. She touched on the spiritual aspects of her Bat Mitzvah — Philly.com reports that Bialik described herself as "devout" and "immersed in her Judiasm" — as well as the just-for-fun elements of the party. According to Philly.com, her Bat Mitzvah party was adorned with a blue motif and fishbowl centerpieces.
Rapper Drake, too, has been vocally prideful about his Jewish upbringing. Not only did the music artist discuss his Bar Mitzvah in the below clip, he actually paid tribute to the ritual in a music video with Nicki Minaj.
Not convinced? Here's proof!
While the Bar Mitzvah traditionally takes place at the age of 13, there are some cases when men and women engage in the ceremony later in life. Actor David Arquette, for example, had his Bar Mitzvah at age 41 (in June of this year) during his first trip to Israel.
So we've got the Fonz, Blossom, Deputy Dewey, Eddie McDowd, and ol' Aubrey Graham. Oh, and don't forget the New Girl's resident tenet of Zenet, Schmidt (Max Greenfield):
[Photo Credit: AP Photo]
More:
'The Guilt Trip' Accurately Portrays the Jewish-American Struggle — CLIP
'American Horror Story' By the Numbers: Nazi Death Squad
Rihanna's New Music Video For 'Diamonds' Debuts: Is It About Chris Brown?

Ariel Winter's Mom Claims She Found Daughter in Bed With 18-Year-Old Boyfriend, Police Report Reveals (EXCLUSIVE)
(Celebuzz)