'The Fox' Music Video Has Just Ruined Our Childhood Memories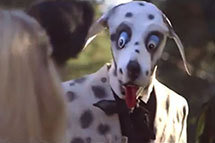 Youtube Typical American kids spend their formative years learning about the world through animals. From classroom pets to best friends found in books and on the Disney Channel — The Berenstain Bears, Franklin, Little Bear, Clifford, Bear in the Big Blue House… I can keep going — children spend a good amount of time in the company of these wild beings. However, the Norwegian band Ylvis has taken this innocent curiosity in animals and turned it into a creepily compelling music video (below). 
Ylvis, a band composed of two brothers, has had little luck becoming music super stars in their native Norway and have decided to try and break into the American music market. Unfortunately, they felt this video was the way to do it. "The Fox," a video showcasing adults dressed up as animals, was uploaded to YouTube on Sept. 3 and has already received 250,000 views. Seriously, America?
Not only do adults dress as animals, meowing and mooing to their heart's content, the band actually wrote a song about the noise a fox makes — and they spend the majority of the video spewing random sounds as they try to guess. While making these noises, Ylvis and its group of misfit animal-humans run into a forest lit by neon strobe lights. If you didn't already feel like you were on a bad Acid trip, this will get you there. A grandfather-like old man then enters the frame and starts to sings out the words of a childrens' book, as if we weren't disturbed enough. By the end of this freaky journey into the scariest woods ever, a real fox appears and sings to the camera… summing up one of the most bizarre music videos of all time. 
While many people left comments on the YouTube video expressing their confusion, others seemed to like the song, one viewer even commenting, "Best. Song. Ever. Of all time." Whether loved, hated, or confounded, "The Fox" has gone viral and entered the lives of unsuspecting YouTube viewers everywhere — and now we can't stop watching. 
More:
'One Direction: This is Us' Best Song Ever Music Video
Who is Austin Mahone? and Other YouTube Celebs
Britney Spears' Top Five Music Videos
---
From Our Partners:


A Complete History Of Twerking (1993-2013) (Vh1)


15 Stars Share Secrets of their Sex Lives (Celebuzz)