The Hollywood Walk of Shame, Now Featuring: Katy Perry, January Jones, and Special Guests! 
Spotted: Katy Perry leaving John Mayer's New York City apartment on Wednesday, October 17 — clad in sweats, complete with a raised hood and large sunglasses. Now, this can only mean one thing. Well, it can mean two things. The first is that, despite our fervent warnings, Perry and Mayer are "hanging out" — which is young person speak for "casually dating," or, if you prefer, "getting it on." The second thing this picture documents perfectly is Ms. Perry's Walk of Shame. Look at that form! Head down, lack of eye contact, sensible shoes, gentleman caller trailing at a safe distance; it might as well be a Saturday morning on Greek Row at State University U.S.A. Oh celebrities, sometimes they're just like us.
And, make no mistake, Perry isn't the only culprit. Chronicled here for posterity are the details of Perry's and four other A-Listers' weaker moments. We present to you: The Hollywood Walk of Shame.
Katy Perry: October 17, 2012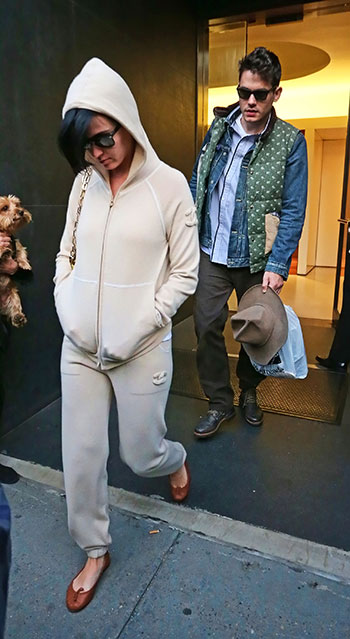 Why is Perry wearing sweats while leaving Mayer's apartment? Because she didn't plan ahead enough to bring clothes for the next morning. You can bet this is a mistake she won't make again — a lady is always prepared!
Chris Brown: October 2, 2012
You sneaky so-and-so! No use trying to pretend you weren't up to no good; we know just what you were doing at Rihanna's NYC hotel (and we don't like it). 
January Jones: June 11, 2010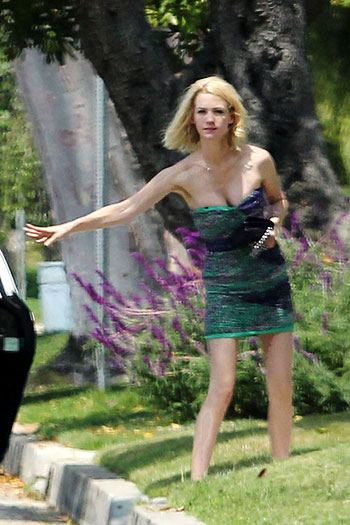 This one really takes the cake. The morning after Jones attended the Oceana World Oceans Day Party, she was spotted hailing a cab wearing the same dress she was photographed in on the red carpet the night before. Someone didn't sleep in her own bed that night!
Sienna Miller: February 2, 2010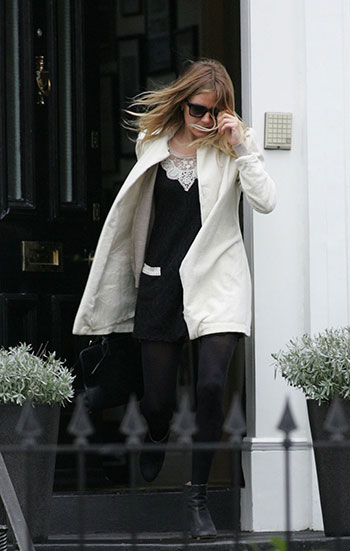 Walks of Shame are never comfortable, and doing one from your ex's house is even trickier, as Sienna Miller and Jude Law learned while trying to patch things up in 2010. How are you going to explain to the kids why Mommy is leaving? 
Jessica Simpson: January 25, 2006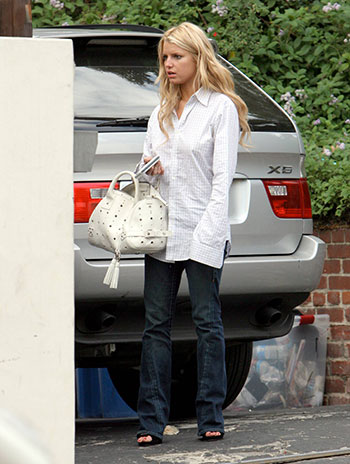 Before motherhood, Jessica Simpson was just a girl, having a sleepover with a boy, who had to leave the next morning in high heels and a borrowed shirt. We've been there, honey.
Follow Abbey Stone on Twitter @abbeystone
[Photo Credit: FameFlynet; Sam Sharma/Pacific Coast News; Will Jackson/Pacific Coast News; MWD-Stefan/X17agency; Jayme Oak/INFphoto]
More:
Drake Officially a High School Graduate
Love By Numbers: The Big 'Bachelor' Breakup Barometer
Nick Offerman Will Get Naked For Money… For Charity
From Our Partners:

Giuliana and Bill Rancic Planning for Baby No. 2: 'I Would Love a Girl,' Says E Host
(Celebuzz)

Kate Upton Flaunts Major Cleavage in Vogue's November Issue — PHOTOS
(Celebuzz)