The Horror Olympics: Which Possessed Girl Gets Gold?
Poor Jordyn Wieber. There was perhaps no sadder moment surrounding the 2012 London Olympics than watching Ryan Seacrest ask the gymnastics team about Justin Bieber the World Champion sobbing after getting knocked out of the All-Around Finals — just feet away from qualifying teammate Aly Raisman's televised victory interview.
But Wieber should perk up as high as her ponytail — not only will she get a chance to Kerri Strug her way into winning her team Gold (hopefully sans ankle injury), but she could also boast a lucrative career in Hollywood. Doing what, you ask? Why, if horror movies have taught us anything, it's that there's a market for flexible possessed women. 
Ever Linda Blair crab-walked her way down a set of stairs in a scene that was added for
The Exorcist
's 2000 theatrical re-release, the industry has realized nothing there's nothing more horrifying more than watching a girl bend her body in ways not seemingly possible. (You saw
Raisman's parents watching her uneven bar routine
last night, didn't you?) So how would scary movies' most notable bendy ladies fare in the Olympics? Let's see who would make the team — and who possessed us enough to pick up the Gold.
Finalist: Psychiatric Ward Crawler, The Exorcist III (1990)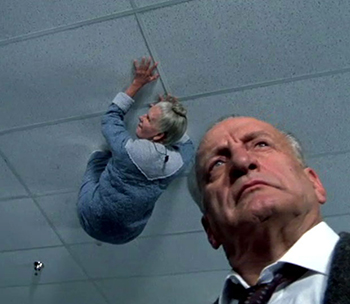 Name: Unknown
Best Event: Defying Gravity
Hobbies: Singing the full track to Wicked
Strength: Helping you remember the existence of The Exorcist III
Weakness: Appearing in The Exorcist III
Final Score: 55.32. Talk about a one-trick pony.
Finalist: Emily Rose (Jennifer Carpenter), The Exorcism of Emily Rose (2005)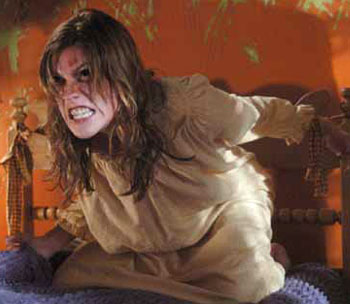 Name: Emily Rose
Best Event: Rings
Hobbies: Excessive work-out sessions, crying over Lundy. Oh wait, that's Deb Morgan.
Strength: Season 4
Weakness: Season 5
Final Score: 60.03. Julia Stiles' terribleness really throws you off your game. 
Bronze Medal: Nell Sweetzer (Ashley Bell), The Last Exorcism (2010)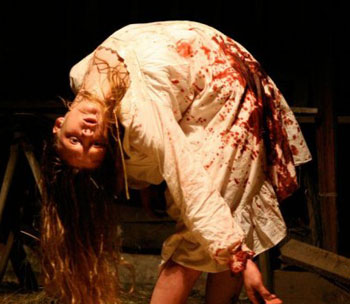 Name: Nell Sweetzer
Best Event: Floor Exercise
Hobbies: Laundry.
Strength: Scaring the hell out of everyone but herself.
Weakness: Hygiene.
Final Score: 61.78. Could a scrunchie-less gymnast perform any higher?
Silver Medal: Regan MacNeil (Linda Blair), The Exorcist (1973)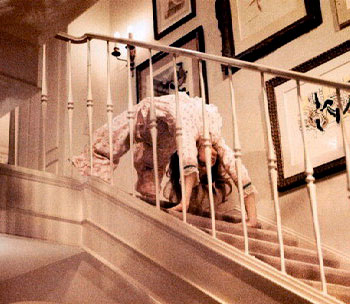 Name: Regan MacNeil
Best Event: Uneven Bars
Hobbies: Board games.
Strength: Avoiding Home Alone-style paint cans.
Weakness: A warm bowl of pea soup.
Final Score: 62.5. Like Wieber, a heavy favorite who still failed to turn her head and notice the competition.
Gold Medal: Rosalita (Bonnie Morgan), The Devil Inside (2012)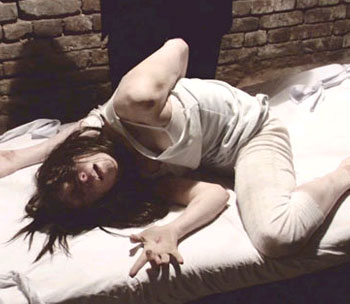 Name: Rosalita
Best Event: Unbalanced Beam
Hobbies: Yoga. Duh.
Weakness: Fashion sense. Capris? What is this, 2000?
Final Score: 63.00. Really, anyone else taking the title would be a stretch. (Har.) 
Of course, these rankings are based on a biased judge who enjoys footage that can keep her up at night. So now, it's your turn: Which possessed lady would get your gold medal?
<a href="http://polldaddy.com/poll/6428037/">Which possessed girl would you give the gold?</a>
Follow Kate on Twitter @HWKateWard
More:
Olympics Round-Up: World Record for Dana Vollmer, Hugs for Michelle Obama
Olympic Round-Up: Lochte Beats Phelps, Archers Take Aim at Silver
7 Queen of England Memes (From the Olympics Opening Ceremony)