Home
Celebrities
The Kennedy Center Honors: Led Zeppelin Can't Have Obama's 'Panties,' & Other...
The Kennedy Center Honors: Led Zeppelin Can't Have Obama's 'Panties,' & Other Zingers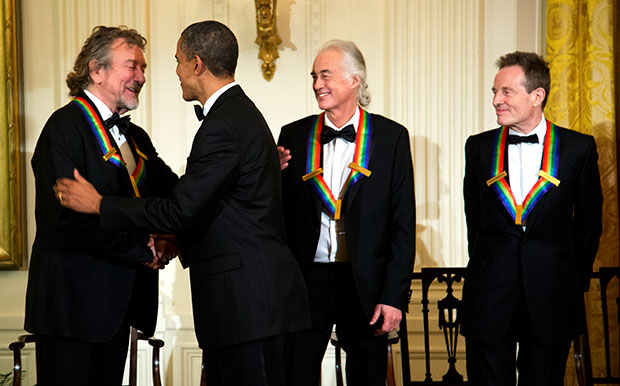 Aging rock and roll musicians have long been the butt of many a joke. (Just ask Steven Tyler, Mick Jagger, Keith Richards, and every other rocker you had on your bedroom wall.) So during Sunday night's 35th Annual Kennedy Center Honors — which saluted legends Led Zeppelin, made up of keyboardist/bassist John Paul Jones, guitarist Jimmy Page, and singer Robert Plant — President Barack Obama was more than prepared to rag on the musicians and their rock and roll lifestyles. Obama even included the term "panties" in one of his playful jabs.
But Led Zeppelin wasn't the only target of the star-studded evening. Below, see some of the best jokes from the 2012 Kennedy Center Honors:
Target One: Led Zeppelin
President Barack Obama: "Of course [Led Zeppelin] also redefined the rock and roll lifestyle. We do not have video of this, but there were some hotel rooms trashed and mayhem all around. So, it's fitting that we're doing this in a room with windows about three inches thick and [with] secret service all around … Guys just settle down. These panties are valuable."
Jack Black: "Nine mind-blowing records in a row. Even Beethoven would have crap his pantaloons." 
Target Two: President Obama
Ray Romano: "You want to win the world series. Do you quit? You're down one game nothing. No. You keep going. Do you quit when you're down one nothing in debates? No, no, you keep going. You become the president." 
Target Three: David Letterman
Jimmy Kimmel: "For David Letterman, this is also, unquestionably, the single worst night of his life. That medal hanging around his neck — there's a 40 percent change he'll hang himself with it." 
Tina Fey: "Was he a brilliant, subtle, passive aggressive, parody of a talk show host? Or, just some midwestern goon who was a little bit off? Time has proven that there's just really no way of knowing."
Follow Lindsey on Twitter @LDiMat.
[Photo Credit: Manuel Balce Ceneta/AP Photo]
More:
President Obama Says Beyonce and Jay-Z Are 'Down-To-Earth'
President Obama Explains Nicki Minaj Lyrics to the Masses
President Obama Calls Up a Friend For a Mission of High Importance — VIDEO

Inside 'Bachelorette' Stars Ashley Hebert and J.P. Rosenbaum's Wedding — EXCLUSIVE DETAILS

Mario Lopez, Courtney Mazza's Wedding Pictures Revealed!