The Kim Kardashian and Kris Humphries Guide to Anniversaries

Monday, August 20 is a special day for former lovebirds Kim Kardashian and Kris Humphries, as it marks the one year would-be anniversary for the divorcing couple. And oh, what a year its been, right? After 72 days of wedded bliss, the couple decided that married life just wasn't for them.
No matter now, though, since Kim is now seemingly quite happy with her new man friend, Kanye West. But just because Kim is divorcing Kris doesn't mean we can't learn a thing or two about keeping the magic alive in your own relationship/marriage/very public and dragged-out divorce.
1.) Send presents! According to the folks at US Weekly, Kim and current boyfriend Kanye got a surprising present from Kris, waiting for them in an innocuous Nordstroms box. What was it? Lingere? a "Congrats on your new relationship" monogrammed towel? No, no, no! Kris' lawyers were actually trying to serve Kanye subpoena papers to call him into court! And it seems like a good thing that Kim didn't accept them on behalf of her boo, because that's one thing Nordstrom's return policy might not have covered.
2.) Make a video for your sweetie. Want to spice things up? Making videos is certainly something Kim knows a lot about, and after announcing that his new song, Perfect B***h was about her, Kanye asked his ladyfriend to play video vixen (a role her curves seem perfectly made for) in his new song with DJ Khaled called "I Wish You Could/Cold." Kim shows up around the 5:11 mark. Sure it might not be for Kris, but it is one way to make a statement, especially when the lyrics include bits such as "I'll admit I fell in love with Kim/Around the same time she had fell in love with him" and "Lucky I ain't have Jay drop him from the team."
3.) Roleplay! Kim knows that variety is the spice of life, so what better than to play someone completely opposite yourself for your partner's enjoyment? That's why Kim's role appearance on Lifetime's Drop Dead Diva as relationship expert Nikki LePree is so perfect for her! Add to that the newest images of Kim in the slammer for her shady, grifter ways on the show, and you bet that Kanye is waiting at home with a pair of handcuffs to reenact certain, um, aspects of that at home in the boudoir.
4.) Don't listen to naysayers OK sure, so a lot of people don't like Kim. Who cares, right? And just because the newest hater (also known as action star Jeremy Renner) said that your family was a bunch of "ridiculous people with zero talent who spend their lives making sure everyone knows their name. Those stupid, stupid people," doesn't mean you should listen! Curl up with your man and remember that the only opinions that matter are your own!
5.) Live your own life Need to occupy your time? It's important that you and your honey each have your own lives outside of each other: something that, perhaps, Kim and Kris weren't really prepared for (since, you know, Kris wanted Kim to stop working and just be a mom and move to BFE or whatever). So what is a girl to do that's going through a divorce but needs to expand her horizons? Start an eyewear line with her sisters, natch! A little ad modeling is just the trick to show your own interests and goals to the rest of the world.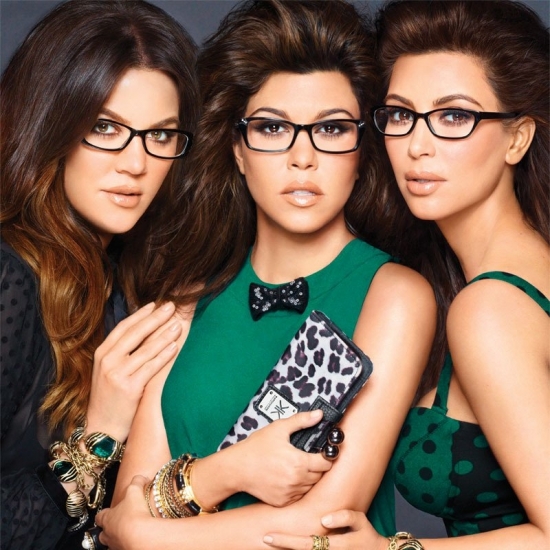 What do you think about The never-ending Kim/Kris divorce drama? Sound off in the comments.
[Photo Credit: Sears]
Follow Alicia on Twitter @alicialutes
More:
Jeremy Renner Joins Growing Kardashian-Hater List
Kim Kardashian Goes to Jail! (On TV!)