The Maccabeats Are Back – Or a Reason to Listen to 'Candlelight'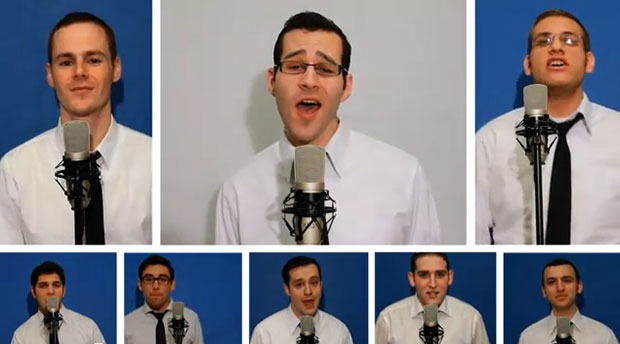 See, the problem with Hanukkah is that all many of the holiday's songs are really depressing and boring. There are no jingly bells or jolly men in red suits; instead it's all like "Candle candle burning bright / People are sad / Let us mourn / Let us cry / Candle candle burning bright." This is why Jews don't like flaunting their menorahs and stupid chocolate coins. It's why we decorate Christmas trees and buy pine cone-scented candles and listen to Mariah Carey's holiday album on repeat and tell everyone that Elf is our favorite movie, holiday or otherwise. Come December, we need something to make us feel a little cool, and The Maccabeats answered our prayers (sort of).
OK, so they may not be responsible for anything as cool as producing a 98 Degrees Christmas CD, but their videos and lyrics and glasses are still fun enough to share with all your friends – Jewish or not. I mean, how can anyone forget "Candlelight," their a cappella version of Taio Cruz's "Dynamite"?
Maybe it's not the best Hanukkah video of all time or anything (if you figure out what is, please do share), but when you can happily scream about putting latkes in the air and still sort of tell the real story of the holiday then it's definitely a miracle. And isn't that what Hannukah's all about, anyway? I'm actually still not 100 percent sure, so if someone wants to clue me in that'd be great.
This year, The Maccabeats put out another video – and this time, it's an original song, "Shine." I'm not saying it's as catchy as "I won't ask for much this Christmas / I don't even wish for snow / I'm just gonna keep on waiting / Underneath the mistletoe" (currently on repeat, ugh I'm the worst Jew EVER), but I'm also not saying I haven't already memorized the chorus.
[Image Credit: YouTube.com]
Follow Anna on Twitter @thebrandedgirl
More:
The Bright Lights of Hanukkah: The 'Rugrats' Special
Hanukkah Begins: A Lesson From The Holiday Armadillo On 'Friends'
The Best and Worst TV Episodes of 2012—Staff Picks

12 Funniest Movie Presidents in Film (Moviefone)

New 'Star Trek Into Darkness' Trailer! — Cue Khan Scream (Moviefone)