The Miley Cyrus College Course Is Actually a Great Idea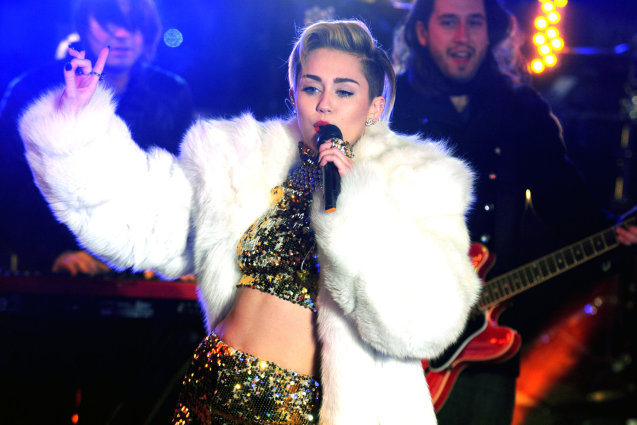 WENN
Perhaps you've heard by now that the first-ever Miley Cyrus-centric course is making its way into academia. Skidmore College is doing the unthinkable and offering a class on the "Wrecking Ball" singer, and a lot of people are… not pleased. "What a waste of insane amounts of private school tuition money! Is this what they're teaching the kids nowadays?!" are some of the cries of protest you might have heard over the announcement. But hold up on the hate for a minute. Further investigation tells us that this course actually sounds like a great idea.
For one, it's a little bit more complex than what you might assume a Miley Cyrus class to be (this is not Twerking 101). This is a summer sociology course taught by Carolyn Chernoff, a visiting professor at the college with a joint Ph.D., in Sociology and Education/Culture/Society. We're going to assume that she knows her stuff, or at least a lot of stuff. The full title of the course is "The Sociology of Miley Cyrus: Race, Class, Gender, and Media," and the course description is actually rather intriguing:
-Gender stratification and the hyper-commodification of childhood
-What happens to Disney stars as they age (see Justin Timberlake, Britney Spears, Christina Aguilera, and more)
-Allies and appropriation
-Uses of culture across race, class, and gender
-Bisexuality, queerness, and the female body

See? No twerking involved… although the issue might come up in the appropriation or cross-culture discussions.
Interestingly enough, courses like this that delve into cultural theory and gender as it plays out in the media are the very courses we need for people (like Miley Cyrus, in fact) to understand the difference between sexual expression and sexual exploitation. Hopefully, Miley Cyrus herself will find time to sit on a class or two. It could certainly do her some good to see how her work translates when it's under a theoretical or analytical lens. 
For some people, it's still difficult to accept Cyrus as a cultural phenomenon, worthy of higher education's attention. But, like other artists who are now being taught in universities (Jay Z, Beyoncé, Kanye West, etc.), she is hugely relevant, even if her talent and skills are a matter of opinion.
Follow @Hollywood_com Follow @shannonmhouston