Watch The National Pull a Bruce Springsteen at a New York Concert: Genius or Obnoxious?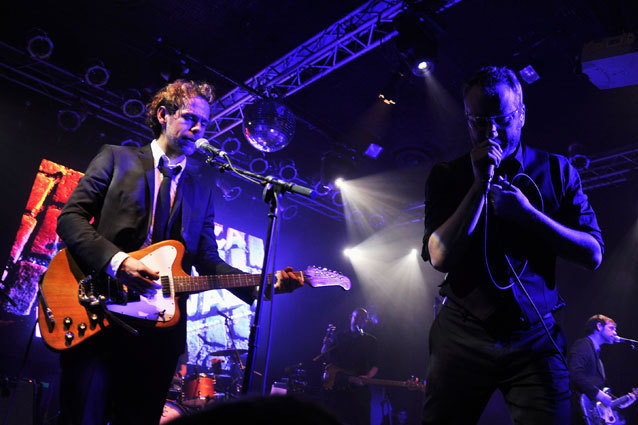 Fans of Brooklyn-based band The National are no stranger to their sorrowful anthems. Every single album of theirs is filled with sad love songs about loss and longing, but in recent years, they've worked to raise their star a bit. From their original compositions for Game of Thrones, to their covers for shows like Boardwalk Empire and even Bob's Burgers, to their recent documentary Mistaken For Strangers, The National is quickly widening its fan base. But the band's latest stunt may lose them a few devoted fans.
As announced, The National played their hit song (and anthem of sadness) "Sorrow" over and over again for six hours at New York's PS1 museum. Music legend Bruce Springsteen has been known to play five-hour concerts, but his at least included storytelling and more than one of his original compositions. But this performance of 105 renditions of "Sorrow" takes the idea of the long, long (long) show to an entirely different place.
The piece was part of Icelandic artist Ragnar Kjartansson's work called "A Lot of Sorrow." The band managed to change it up with a few renditions (see the version below in which the drummer took a break, adding a haunting simplicity to the well-worn tune), but it's hard to imagine listening to any song, especially one with such a downer mood, 105 times in a row without losing one's levity-deprived mind. (Even if someone in their crew thought to serve up a humorous set list with "SORROW" written out 105 times.)
Watch the videos for yourself and let us know: Is this artistic use of The National's biggest song genius or obnoxious?
Higher definition:
Follow Kelsea on Twitter @KelseaStahler
More:
Mariah Carey and Miguel's '#Beautiful' Lacks Sex
10 Questions For The Guy Who Attacked Justin Bieber
Justin Timberlake Announced Album Date and New Tour Dates
---
From Our Partners:


What Happened to 33 Child Stars (Celebuzz)


40 Most Revealing See-Through Red Carpet Looks (Vh1)