The Onion Sparks An Uproar Over Quvenzhané Wallis Tweet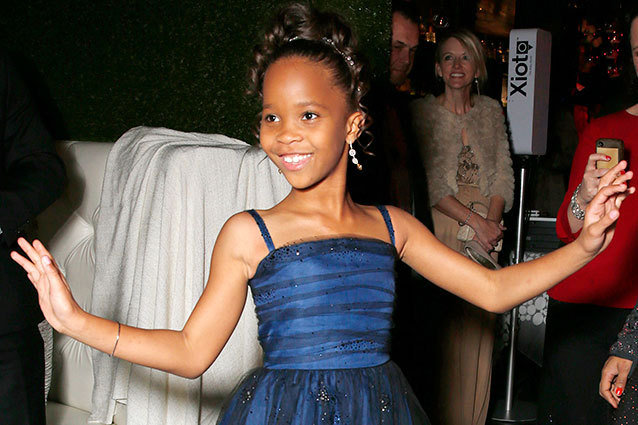 UPDATE: The Onion's CEO Steve Hannah has since apologized to outraged and upset readers. The letter, which has been posted on The Onion's Facebook page reads, "On behalf of The Onion, I offer my personal apology to Quvenzhané Wallis and the Academy of Motion Picture Arts and Sciences for the tweet that was circulated last night during the Oscars. It was crude and offensive—not to mention inconsistent with The Onion's commitment to parody and satire, however biting. No person should be subjected to such a senseless, humorless comment masquerading as satire. The tweet was taken down within an hour of publication. We have instituted new and tighter Twitter procedures to ensure that this kind of mistake does not occur again. In addition, we are taking immediate steps to discipline those individuals responsible. Miss Wallis, you are young and talented and deserve better. All of us at The Onion are deeply sorry."
"You just don't get it, do you?" It's likely the argument you'll hear the most from both sides of the already raging Quvenzhané Wallis/The Onion tweet battle. Onion defenders will say that all those upset simply don't get the joke, while those standing up for the adorable Beasts of the Southern Wild star continue to ask how anyone could find it funny.
RELATED: Quvenzhané Wallis To Star In 'Annie' Remake 
The online uproar, in case you missed it, happened during last night's Oscar ceremony broadcast when satirists The Onion sent out an ill-advised joke at the expense of 9-year-old Best Actress nominee Quvenzhané Wallis: "Everyone else seems afraid to say it, but Quvenzhané Wallis is kind of a c**t, right?" Only, there was no asterisks and the only response that seemed to follow that question was, "When are you going to take this down and apologize?" After being online for over an hour, The Onion did something they rarely do, they took back a jab. Of course, this is the Internet, where controversy will follow you forever and screen shots of the tweet are still out there. Case in point, the original, unedited tweet here: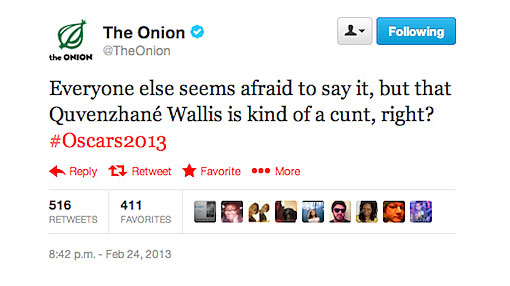 Now, let's get the obvious out of the way first: no decent human being in their right mind would think that of the adorable Wallis. It's clearly a riff on the culture of ripping on celebrities — even women and children — and that Wallis is just about the sweetest thing in Hollywood.
The problem — aside from the jarring sight of that vulgar word next to Wallis' name — is that the joke isn't particularly funny, nor does it really stick it to those celebrity bashers. The only person who looks attacked here is the innocent Wallis. (If you'll recall the Daniel Tosh rape joke incident, a major point of contention was that the comic was mocking rape victims, not finding a way to find humor in the light of those atrocities). There have been some arguments that The Onion didn't actually call her the c-word, but the thing is, they did. Yes, it was a joke, but would we say that Oscar host Seth MacFarlane didn't say the Kardashians had dark facial hair? 
RELATED: Everything That Went Wrong at the 2013 Oscars
There were plenty of people who didn't find the joke funny and took to Twitter to air out their grievance with The Onion. The Wire and Treme star Wendell Pierce wrote from his page, "@TheOnion Identify the writer. Let him defend that abhorrent verbal attack of a child. You call it humor I call it horrendous…I will never lose the ability to be offended and let anyone verbally abuse a child. Especially a child of my community in NOLA…They have the freedom to say whatever they want and I have a right to say it's offensive. I won't stand by and watch the abuse." 
Pierce was hardly alone in his outrage, Russell Simmons urged his followers to retweet the "the very offensive tweet about Quvenzhané Wallis that @TheOnion doesn't want you to see" and Chelsea Clinton responded with the hashtags, "#Unacceptable #Outrageous." Keith Olbermann tweeted after finding out what the Wallis joke was about, "they DID wrong. Retract, apologize, dismiss." 
Of course, for everyone that was upset, there will be just as many who say that people are simply being sensitive, that The Onion is satire and they missed the joke entirely. Perhaps, sometimes there are words that have a harder time hiding under the guise of the sake of comedy (see: Lisa Lampanelli's unapologetic n-word tweet) and, you know what, yeah, people can be a little sensitive about when 9-year-old girls are called c**ts. It doesn't necessarily mean they are humorless drones. 
RELATED: A Bunch of Jerks On Twitter Don't Realize Robin Roberts Has a Blood Disorder
Look, The Onion is no stranger to controversy, whether they're being mistaken for a legitimate news source (it happens way more than you'd think) or being accused of, you guessed it, insensitivity. Not to mention the fact that popular, beloved comedian Louis C.K. uses similar language when it comes to kids (granted, for the most part, he's talking about his own). Either the cries of "Won't somebody please think of the children?" or "Why so serious?" will ring louder in the coming days and weeks — and they will all just continue to play out over Twitter. If there's anything to get worked up about, it's going to be that. 
[Photo credits: Todd Williamson/Invision for Fox Searchlight/AP Images; Twitter]
---
From Our Partners:


25 Most Scandalous Celeb Twitpics (Vh1)


33 Child Stars: Where Are They Now? (Celebuzz)
---
Oscars 2013 Special Coverage
---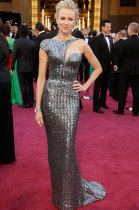 Oscars 2013 Best Dressed: PICS!
• Anne Hathaway: Oscar's Worst Dressed?
• Seth MacFarlane's Opening: How'd He Do?
• Adele's Performance Gets Mixed Reviews
• 15 Oscar-Winning Nude Scenes
• What Happened to Renee Zellweger's Face?
• Oscars 2013: The Full Winners List
• Why Kristen Stewart Was on Crutches