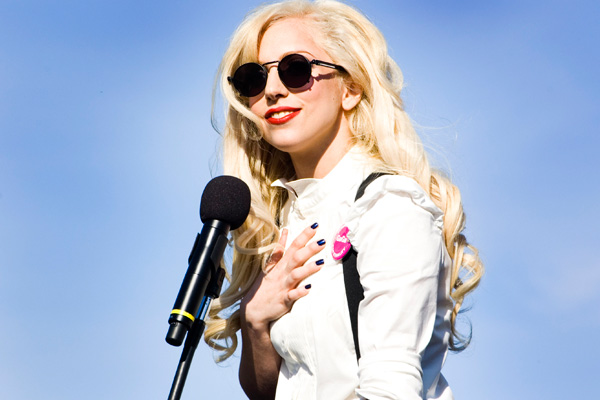 Ladies and gentledudes of the Diva Brigade, star your engines! It may not have been what they intended, but it looks like we've got ourselves a bona fide bloody feud between Madonna and Lady Gaga on our hands. During her concert series in New Zealand, Gaga took a moment out of performing her song "Hair" to address something that seems to be bothering her: namely, the Queen of Pop's recent mockery of "Born This Way." Now, while she never directly says 'Yeah I mean you, Madge!' during her diatribe (see below for video), several spots did seem to point right to Madonna as her intended target. During a discussion of those who try to discount and discredit he work (she used the word 'mockery'), Gaga explained "…things are really different than they were 25 years ago, and that's what makes 'Born This Way' so relevant for me. We're just socially in a different place and it's OK, we don't have to all slice and hate each other anymore."
This comes just a few weeks after Madonna performed a mash-up of her early hit "Express Yourself" with Gaga's "Born This Way" during a rehearsal in Tel Aviv, Israel. The two songs are undoubtedly similar in their sound, and Madge made sure to point that out, by allegedly chanting "she's not me" at the end of her take on the track. Ouch. At another point, Madonna explained she thought "Born This Way" was "reductive" of her own early work. Double ouch.
Feuds seem to follow Mother Monster, as this is only one in a series of feuds that put Pop Star v. Pop Star. In the trial of The People vs. Lady Gaga, where do you stand? Check out Gaga's comments in the video below (They start around the 2:26 mark), and read on to see more about the other fights she's had:
Lady Gaga vs. Madonna
In the Left Corner:
Lady Gaga
In the right corner:
Madonna
The Feud:
Battle "Born This Way"
What Gaga said/did:
Wrote "Born This Way," which many believe to be a carbon copy of Madonna's own "Express Yourself."
What Madonna said/did:
Mocked Gaga's track in a rehearsal, called it reductive and influenced by her own work.
Winner:
While we do think there was more than a little "inspiration" on Gaga's part, it seems really distasteful for Madonna to even engage this sort of thing. Madge, you are in your 50s, you are undeniably an icon that will be remembered forever–what is the point in getting involved in a fight like this? Everything and everyone is inspired by other people. Take it as a compliment–you have more important things to worry about, lady. Because of that, we have to give this one to Gaga.
[Image via Getty]
Next: Mother Monster takes on another pop princess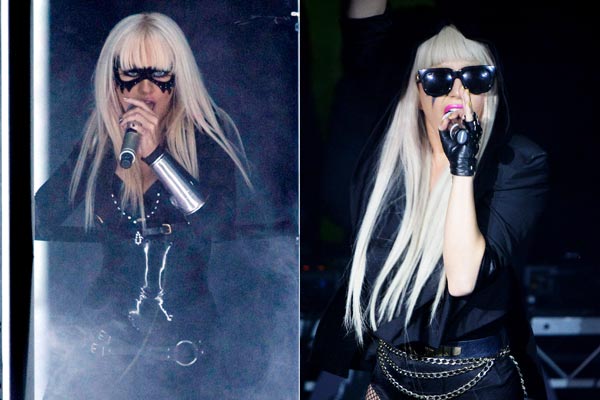 Lady Gaga vs. Xtina
In the Left Corner:
Lady Gaga
In the right corner:
The Feud:
Battle Doppleganger
What Gaga said/did
In the beginning of Gaga's career, her image was almost identical to that of Christina's at the time (2009), meaning it was comparisons and accusations aplenty regarding whether or not to accuse Gaga of ripping off Christina.
What Christina said/did:
When asked about the comparisons in an interview with the LA Times, Christina played the I'm-Too-Big-of-a-Star-to-Know-Who-You're-Talking-About Card, saying "It's funny you mention that. This person was just recently brought to my attention. I'm not quite sure who this person is, to be honest." Yikes!
Winner:
We believe Christina when she says she had no idea who the (at the time) relatively unknown singer was, and the resemblances between the two were crazy-similar. While we think that they've clearly gone their own ways now (we doubt Lady Gaga will ever have a Snooki-esque phase in her look's evolution), in the beginning, it seems like this one goes to Christina.
[Images via Getty]
Next: Maya have your attention, please!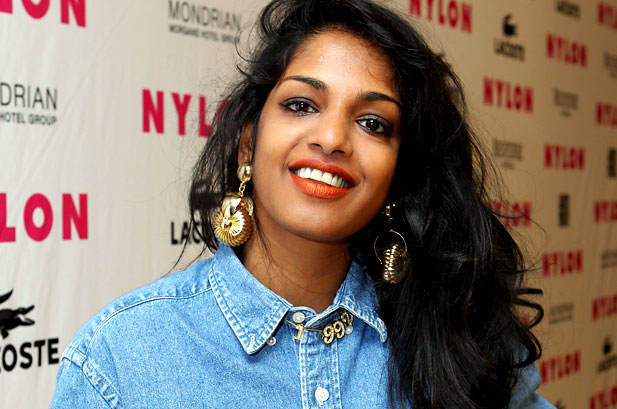 Lady Gaga vs. M.I.A.
In the Left Corner:
Lady Gaga
In the right corner:
The Feud:
Battle Authenticity!
What Gaga said/did
She existed.
What M.I.A. said/did:
Well, what DIDN'T M.I.A. have to criticize, eh? When asked about Gaga in an interview with NME magazine, Maya got a bit cranky: "None of her music's reflective of how weird she wants to be or thinks she is. She models herself on Grace Jones and Madonna, but the music sounds like 20-year-old Ibiza music, you know? She's not progressive, but she's a good mimic. She sounds more like me than I fucking do!" Well don't hold back your opinions, there, M.I.A.
Winner:
Considering M.I.A.'s love of sippin' on the haterade, this one is clearly in favor of Gaga. The two singers couldn't be more different, so it's ridiculous that M.I.A. would think of Gaga as a mimic of her (to start, M.I.A. is a rapper). Gaga, you did no wrong in this situation. M.I.A. was just cranky they were out of truffle fries.
[Image via WireImage]
Next: Disco sticks and crustacean tricks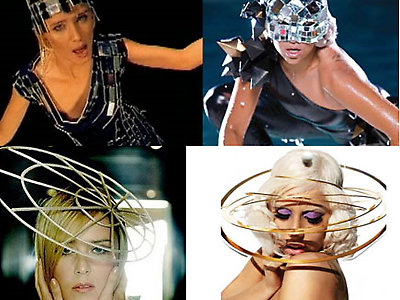 Lady Gaga vs. Roisin Murphy
In the Left Corner:
Lady Gaga
In the right corner:
Roisin Murphy
The Feud:
Battle Theivery
What Gaga said/did
On more than one occasion, it seems as though the pop star may have, um, borrowed a few fashionable quirks from the kooky Irish queen aka Roisin Murphy.
What Roisin Murphy said/did:
In a chat with the Daily Mail, Roisin said "She's copied my style. I met her about a year ago before she got really big and I had no clue that this was all going to happen. She wasn't wearing shoulder pads at the time, and I was. Lady Gaga is just a poor imitation of me. She has copied my style, she took my shoulder pads and all that." Roisin later took to her blog to explain that the feud was nonexistent.
Winner:
This one is a draw. Roisin Murphy is a queen, but much like the Madonna situation, I feel its unfortunate when someone feeds into tabloid-fodder traps such as this. That said, the similarities are just too crazy. So, given the pulls on both sides, we say draw.
[HuffPo]
[Images via Oh No They Didn't]
Follow Alicia on Twitter @alicialutes
More:
Lady Gaga's Newest Accessory: Concussion — VIDEO
Madonna Takes a Swing at Lady Gaga (Again) in a Song Mash-Up — VIDEO
Lady Gaga & Justin Bieber Outed as Aliens in 'Men in Black 3'