Home
Celebrities
The Revenge of 2001: Avril Lavigne Covers Nickelback — LISTEN
The Revenge of 2001: Avril Lavigne Covers Nickelback — LISTEN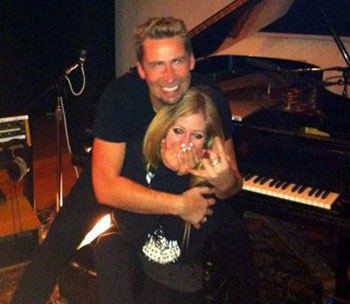 Avril Lavigne has recorded a cover of Nickelback's "How You Remind Me." With news like this, I feel it's easier to make things quick — off like a Band-Aid, I always say. So, there you have it: Avril Lavigne has recorded a cover of Nickelback's "How You Remind Me."
We first learned about this misguided bit of millennial nostalgia — which, due to the fact that Nickelback frontman Chad Kroeger is Lavigne's current fiancé, blurs the line between personal and professional — this fall. In October, Anime News Network announced that Lavigne would be providing songs for the soundtrack to the Japanese animated film One Piece Film: Z, which would include a cover of "How You Remind Me."
On Tuesday, the soundtrack was released by Sony Music Japan… which means that the Internet got its hands on this modern classic. We're not quite sure yet if we love this (because it's meta and crazy and reminds us of seventh grade) or hate this (because it makes our ears bleed) or love it because we hate it, but there you go. It's probably worth a listen.
Follow Abbey Stone on Twitter @abbeystone
[Photo Credit: Twitter]
More:
Avril Lavigne, Chad Kroeger from Nickelback: Engaged!
Yeah Boy! The 2013 Rock and Roll Hall of Fame Inductees are Here
The Yoko Ono "Firework" Cover Never Happened (And Santa's Not Real Either)

Lea Michele Calls Her Breasts 'My Prizewinners'

Kim Kardashians Best Bikini Moments (PHOTOS)