The Rolling Stones' Ronnie Wood is Married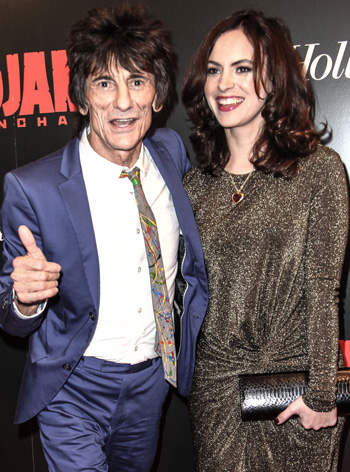 Never understood why Billy Idol thought that particular day was a nice day for a white wedding. He should've known better: any day is a good day for a white wedding if you're a rockstar! Which is probably why one of the grandfathers of rock and roll, The Rolling Stones' own Ronnie Wood chose Friday to ring his own wedding bells.
That's right! Wood—the band's guitarist—tied the knot with his theater-producing fiancée Sally Humphreys in a private London ceremony on the 21st of December, according to The Sun. Right about here is where a really hackneyed comedian would add a line about how Wood's world actually DID end, a-hyuck! Just like the Mayans predicted! (The Mayans predicted terrible comedy, and an end of the world that never came. Can't win 'em all, I suppose!)
Jokes aside, Wood (who is 64), wore bright pink socks because he still knows how to rock, while the bride (34) wore her mother's wedding dress. Also in attendance at the intimate ceremony were Humphreys' parents (her mother is a year younger than Wood), some of Wood's children from his two previous marriages, best man Rod Stewart, his wife Penny Lancaster, Sir Paul McCartney from indie nu-metal seapunk band The Beatles, and his wife Nancy Shevell. Wood's bandmates Mick Jagger and Keith Richards were not in attendance. The couple had been friends for nine years before getting involved, it is said. They met while Humphreys was working at a theater where Wood was staging an art exhibit. The duo announced their engagement in late October after nine months of dating.
Hollywood.com has reached out for a comment, but did not hear back at the time of publication.
[Photo Credit: WENN]
Follow Alicia on Twitter @alicialutes
More:
Simon Cowell and Carmen Electra Join the Ranks of Hollywood Odd Couples
Claire Danes and Hugh Dancy Have Baby Boy: Cue the Ugly Cries of Joy!
Bethenny Frankel and Jason Hoppy Split

20 Hottest Bikini Bodies of 2012: Kim Kardashian and More!