The Show Does Go On: PSY Performs In D.C. Despite Controversy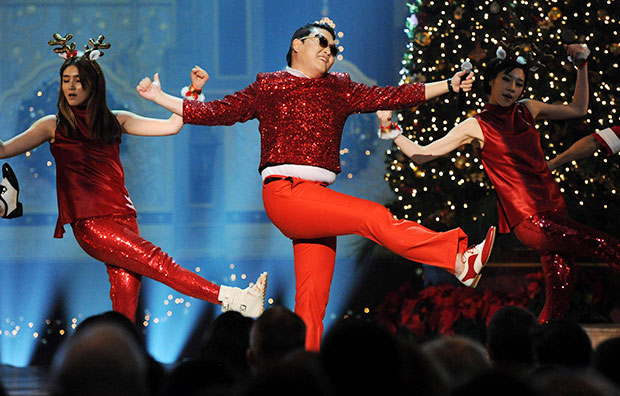 What's more surprising here: That, despite the controversy surrounding the news that international pop star Psy has performed anti-American songs at protests, the "Gangnam Style" singer still performed at the White House over the weekend? Or that anyone who attended the event, including President Barack Obama and the First Family, had an opportunity to get out of having to listen to the unforgivable, gimmicky earworm another time and passed it up? The 34-year-old performed at the annual Christmas in Washington show on the same lineup as performers like Demi Lovato and Diana Ross on Sunday, December 9.
The Christmas in Washington concert came just days after it was revealed that, over the past decade, Psy (whose viral phenomenon "Gangam Style" has become the most-watched video of all-time on YouTube and generated countless parodies) performed at anti-American concerts and covered songs with anti-American lyrics, including one that translated to "Kill those f**king Yankees who have been torturing Iraqi captives/ Kill those f**king Yankees who ordered them to torture/ Kill their daughters, mothers, daughters-in-law, and fathers/ Kill them all slowly and painfully." Don't think anyone will be doing the invisible horse galloping dance to that one anytime soon.
GALLERY: 16 Craziest Holiday Movie Fights
In response, a few angered Americans posted a petition to the We the People section on the White House website, on Friday, December 7, urging the President to rescind the rapper's invitation to perform at the charity event, which was hosted by Conan O'Brien. Since then, the petition was removed, as the President and his administration have no part in booking or deciding who performs at the White House. So the show went on for Psy who, dressed in a festive sequined red shirt, sang that ubiquitous "Gangam Style" for President Obama (this photo of the two men meeting at the concert is now making the rounds and causing a bit of a stir) and the guests at the White House concert.
Since the controversy erupted late last week, the pop star has since apologized for the anti-American sentiments he expressed in the past, saying it "was part of a deeply emotional reaction to the war in Iraq and the killing of two innocent Korean civilians that was part of the overall antiwar sentiment shared by others around the world at that time … I've learned there are limits to what language is appropriate and I'm deeply sorry for how these lyrics could be interpreted."
Footage of Psy's inflamatory 2002 performance, which took place at a protest after two Korean schoolgirls were killed by American tanks, has now surfaced online and can be seen below.
Say what you will about the "Macarena," but at least it never caused this kind of social upheaval.
[Photo credit: Kevin Mazur/Wireimage]
More: