The Ten Commandments of Dating Tim Tebow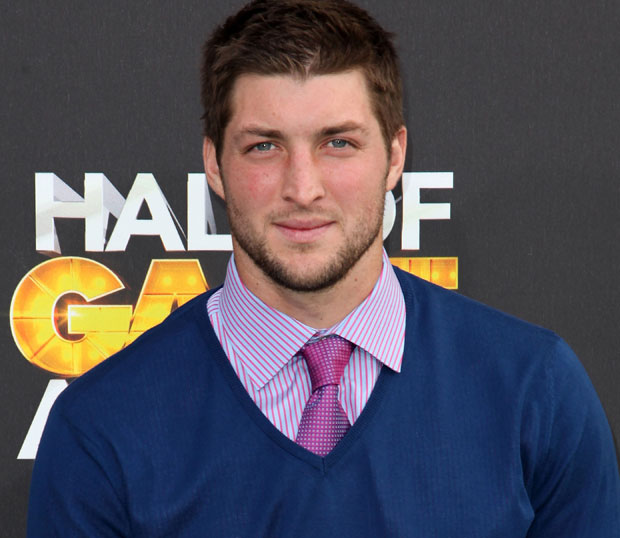 If you've been wishin' and hopin' and thinkin' and prayin' that Jets quarterback Tim Tebow would be your boyfriend, congratulations, you're a forth of the way there! 
Unfortunately for you, a Hollywood actress seemed to be w
ishin
' and hopin' and thinkin' and prayin' a little bit more. Not-Lily Collins
Camilla Belle
, who you might remember from just IMDb'ing to figure out what the hell (sorry Tim) you've actually seen her in (oh right,
10,000 BC
) is linked to the football superstar. But, unlike the other ladies on the Tebow girlfriend rumor mill, which has included
Katy Perry
,
Taylor Swift
, and
Dianna Agron
, Belle seems to be the real deal. 
TMZ.com
has posted a photo of the pair, who allegedly "bowled and partied" together in Tebow's hometown of Jacksonville, Fla. on Tuesday. Sources told the site, "Tim and Camilla were overly affectionate throughout the evening, holding hands and touching." They might as well be married! (Hollywood.com reached out to both Tebow and Belle's reps, but neither were immediately available for comment.) 
So how did Belle, 26, who has dated other chastity cases before (namely,
Joe Jonas
) snag the elusive Tebow, 25? The actress must have followed the Ten Commandments of Dating Tebow to be able to cozy up to the handsome, charitable, controversial, deeply religious, endless figment of the media's fascination. (Oh yeah, and he also plays football.) In fact, we unearthed the sacred text just for you. They are as follows: 
1. Thou Shalt Be Just Like Tim Tebow's Mom: The Denver Broncos transplant often talks about his mother in interviews, and sometimes brings her along for them, like he did when he and
Mama Tebow chatted with Robin Roberts
 about Timmy's love life. In other words, thou shalt also be totally cool with him being a momma's boy.
2. Thou Shalt Be Totally Cool With the Saving Himself For Marriage Thing. In Fact, That's Sort Of Your Preference: See: Joe Jonas ex Camilla Belle. 
3. Thou Shalt Sound Like You're a Standard Match.com Profile: In the past, Tebow has described wanting a girl who is "passionate, that cares, who is a sweet, kind person, and has a great heart and a big heart" and "someone that's pretty, too."
4. Thou Shalt Like Games, Football or Otherwise: Tebow once told
SheKnows.com
, "My favorite thing to do is hang out with close friends and family and laugh. We play games all the time: Catch Phrase, Taboo, Mafia. We stayed up the other night until like three in the morning just laughing." Wild night at the Tebow house!
5. Thou Shalt Know How To Tebow: I mean, come on. That's a given. 
6. Thou Shalt Be Okay With The Possibility of Becoming a
Skip Bayless
Remix: "Let him date!"
7. Thou Shalt Probably Keep
Easter Sunday
 Open: Brunch might have to wait. 
8. Thou Shalt Be Prepared To Be Mercilessly Asked About Your Relationship: God knows he has to all the time. 
9. Thou Shalt Be Super Religious: Really can't stress this one enough, ladies. 
10. Thou Shalt Not Expect To Meet Him on
The Bachelor
: Thank heavens, that's not ever happening. 
[Photo Credit: Brian To/WENN.com]
More: