'The Voice' Star Adam Levine Beaten & Bloody in New Video — PIC
Have angry ex-contestants from The Voice decided to seek revenge on coach Adam Levine? The 33-year-old singer was pictured with a bloodied lip on Thursday — but no, it was not because an angry mob went after him. (And we can't blame his ex Anne V this time either.) Instead, Levine was in costume while on the set of Maroon 5's clearly action-packed "Payphone" music video.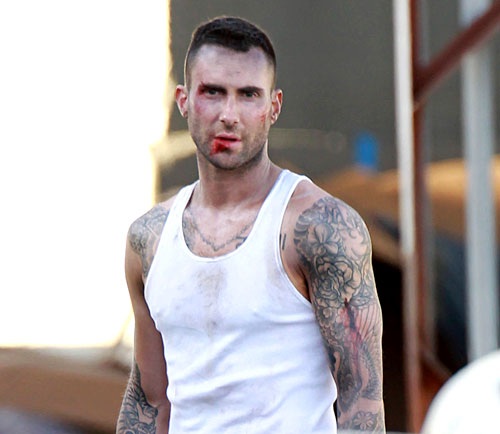 Still, Levine couldn't resist having a little fun with his fans. "Rough morning… " Adam jokingly tweeted, along with a shot of his bloody face. Too bad he actually revealed the truth of what happened in a earlier tweet. (Think we wouldn't catch on, Adam?) "Shot the video for #payphone today," he wrote just before sharing the not-so-shocking image. "More tomorrow. This s**t is truly insane. In a great way. Crazy." We'll go ahead and spoil "Payphone" now: Kiefer Sutherland is the villain. Oh, wait sorry, that's Phone Booth.
Follow Lindsey DiMattina on Twitter @LDimat
[Twitter, Pedro Andrade/ KVS/PacificCoastNews.com]
More:
The Voice Recap: Instant Eliminations!