Why 2014 Is the Year of Elizabeth Banks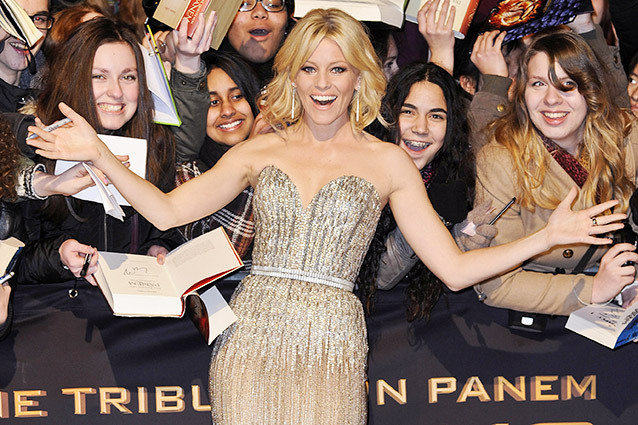 WENN.com
If you're an Elizabeth Banks fan, you've probably been waiting for the day when more people would start talking about Elizabeth Banks. Because, let's be real, she is awesome. Ever since she became our favorite porn star ever, we've been waiting for her to kinda, sorta take over the world. And while her world domination may be not be imminent just yet, 2014 is looking like a pretty big year for her.
Last month saw the release of Little Accidents, an indie movie based on director Sarah Colangelo's 2008 award-winning short film. Banks will star alongside Chloë Sevigny in this story of a small American coal town that experiences some major changes when a teenage boy goes missing. In The Lego Movie Banks will voice the part of tech-savvy tough girl Wyldstyle, and if you've seen the trailers, you know she's in good company with folks like Chris Pratt, Will Ferrell, and Morgan Freeman voicing characters as well.
In The Hunger Games: Mockingjay – Part 1, she'll be reprising her role is the ever-amazing Effie Trinkett. But before that, she'll be taking on one epic Walk of Shame with Little Nicky and Mr. Deeds director Steven Brill. In case you lost count, that's five new movies so far. Not a big deal.
Before the year's end, Banks will also co-star in Love & Mercy, a biopic about Beach Boys songwriter and singer Brian Wilson, playing Wilson's wife and former model Melinda Ledbetter. She'll close out the year with a seventh project, Every Secret Thing, in which she stars alongside Diane Lane and Dakota Fanning. The movie is based on the crime novel of the same name, and Banks plays a detective who becomes heavily invested in the case of a missing child. This particular film is getting lots of buzz as it represents the first time Frances McDormand will act as producer on a project.
But perhaps the biggest news of the year for Banks is that she's making her directorial debut with the highly-anticipated Pitch Perfect sequel. Not that there was anything the matter with the first time around, but we'd really like to see E. Banks work her magic on the next one.
Suffice it to say it'll be a busy year for the mom of two, but we think she can handle it. The real question is whether or not we'll be able to handle all of these amazing projects, and still find time to hang out on her awesome website.

Yes, yes will.
Follow @Hollywood_com Follow @shannonmhouston