Why Justin Timberlake Should Have Stuck To His Acting Career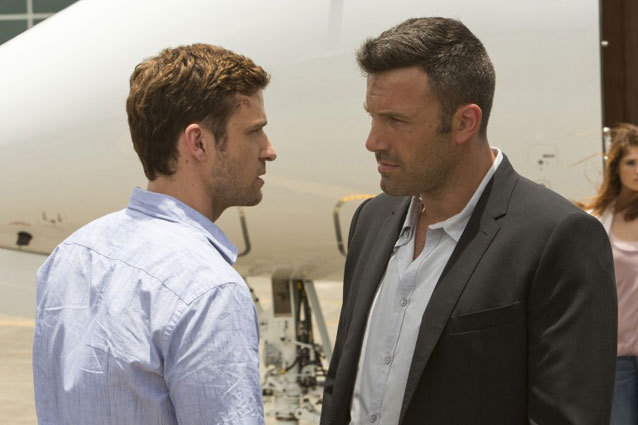 20th Century Fox
Having recently worked with such illustrious filmmakers as David Fincher, Clint Eastwood and The Coen Brothers, Justin Timberlake's acting career may have recovered from its inauspicious start. But despite his impressive performance in The Social Network and likeable turn in rom-com Friends With Benefits, most of his fans were still clamoring to see him on the stage rather than on the big screen.
Indeed, although collaborations with the likes of Madonna, Ciara and T.I. kept his name in the upper reaches of the Top 10 during his pursuit of a glittering Hollywood career, seven years had passed since his last album first hit the shelves by the time he finally announced his return to the pop scene in January.
Considering both 2002 debut Justified and 2006 follow-up FutureSex/LoveSounds established him as the new King of Pop with their innovative blend of electro-funk, R&B and hip-hop, expectations were inevitably high for its long-awaited follow-up. But while the lead tracks from his previous two efforts pushed the boundaries of mainstream pop, "Suit & Tie" was instead a rather lacklustre retro affair which sounded more like an underwhelming fourth single than a globe-conquering comeback.
Its parent album, The 20/20 Experience, turned out to be just as mediocre as with the exception of the hip-shaking Latin pop of "Let The Groove Get In" and the "Cry Me A River" Part III balladry of "Mirrors," Mr. Jessica Biel appeared to have forgotten everything that made him such a great pop star.
Bogged down by Timbaland's tired-sounding production, an over-reliance on cringey sex talk and a ridiculously bloated 70-minute running time (only one of its ten songs clocked in under the 5.00 mark), the record was severely lacking in both major hooks and any form of quality control.
Unfortunately, its astonishing success (nearly one million US sales in its first week, the biggest-selling album of 2013 so far) meant that instead of looking for someone to rein in his self-indulgent streak, Timberlake stuck with the man who encouraged it and soon announced that a hasty follow-up would be on its way.
Apparently learning nothing from Gwen Stefani, whose patchy sophomore effort The Great Escape, was lazily assembled from leftovers from her brilliant debut, Love. Angel. Music. Baby, JT  admitted that The 20/20 Experience 2 of 2 would consist of tracks that hadn't made the cut on 1 of 2.
And although the Off The Wall-era Jacko-esque "Take Back The Night" initially indicated that such a half-hearted approach might pay off, the rest of the recently unveiled LP suffers from the same problems as its predecessor.
Tracks such as the horror-themed "True Blood," the abrasive rock-tinged "she loves me/she loves me not" tale of "Only When I Walk Away" and the aptly-named forgettable "Amnesia" ramble on for over seven torturously long minutes despite running out of ideas well before the half way mark.
The dated R&B of "Gimme What I Don't Know (I Want)" and "TKO" continue to prove that Timberlake would have been far better off reuniting with man-of-the-moment Pharrell rather than his near-namesake. While having already jumped on the whole gratuitously nude video bandwagon with "Tunnel Vision," Drake collaboration "Cabaret" and "You Got It On" indicates that he's now deliberately trying to rival Robin Thicke as pop's biggest sleazeball.
As his 'N Sync-assisted medley at last month's MTV VMAs proved, few can touch Timberlake when he's at the top of his game. But although his sales and chart positions suggest otherwise, he's currently nowhere near it.
More:
The Most Pointless Greatest Hits Collections
Who Else Is Worthy Of Filling Freddie Mercury's Platform Boots?
Comedians Who Take Their Music Career Entirely Seriously
---
From Our Partners:


40 Most Revealing See-Through Red Carpet Looks (Vh1)


15 Stars Share Secrets of their Sex Lives (Celebuzz)