Home
Celebrities
'Time' Cover Mom on 'Today': My Son Will Breastfeed Another Year — VIDEO
'Time' Cover Mom on 'Today': My Son Will Breastfeed Another Year — VIDEO
There have been a lot of controversial parenting techniques publicized this year from Alicia Silverstone's "baby bird" feeding habits to January Jones' penchant for eating placenta. But, Time magazine might have displayed the most divisive one yet: Jamie Lynne Grumet, the focus of Time's latest cover, is still breastfeeding her 3-year-old son. Grumet, 26, appeared on Today, Friday, to discuss her unusual technique for feeding her children — and revealed that her son will continue to breastfeed into his fourth year.
"Our fourth year is going to be our final [year]," Grumet told Savannah Guthrie. And while Grumet understands that her method is unusual, even admitting that it is "not for everyone," she maintained that she believes this to be the best situation for her and her son.
Of course, behavior like this is bound to cause some backlash, and with backlash comes parody. Below the video of Grumet's appearance on Today is just one of many images produced as part of the Time Mom meme that is today's Internet fixation.
Visit msnbc.com for breaking news, world news, and news about the economy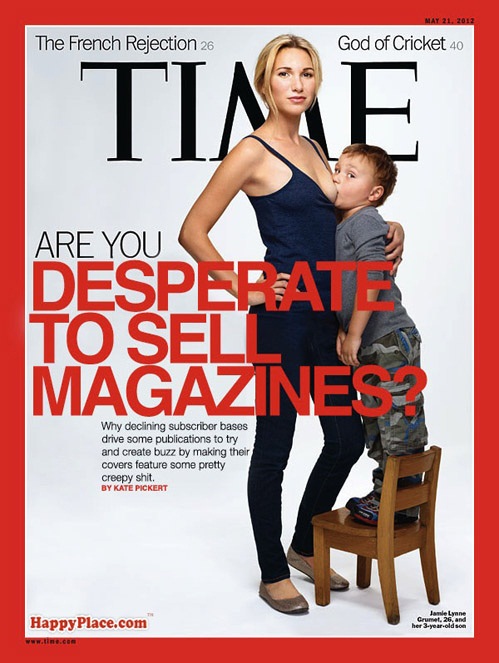 More:
Celebrity Moms' Craziest Behavior: 7 In The Spotlight
Solange Knowles: I'm Not Giving Beyonce Parenting Tips