'Time' Names Barack Obama Person of the Year, But Who Is YOUR Person of the Year?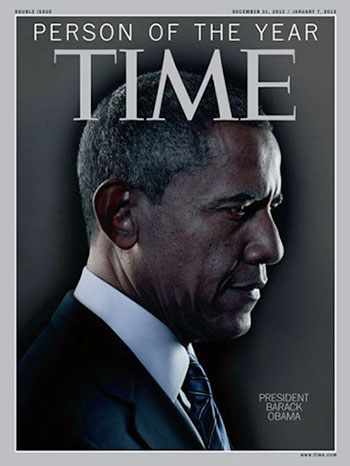 Every year since 1927, Time magazine has paid tribute to the the man, woman, community, or concept that has bestowed unto the world the greatest amount of influence. Those branded with the title "Person of the Year" have ranged from activists, entrepreneurs, tyrants, religious leaders, and — quite frequently — American presidents. Just about every election year over the last half a century, the newly appointed POTUS has been deemed Time's most prominent figure. The publication continues its trend this year by naming Barack Obama 2012's Person of the Year.
And yeah, sure, we get it. He's the leader of the free world, he's striving towards achieving new ends in the realms of social, economic, and international issues, and he puts up an admittedly decent fight against Spider-Man. But to name Barry O, or any individual for that matter, as the sole "Person of the Year" is borderline discriminatory. After all, who's to say that your life is most directly affected by the status of your nation's distribution of liberty, its fiscal climate, its overseas relationships? Maybe you're the kind of person whose mind more readily treads to the equally biting territory of Marvel villains, or sex scandals. There's no shame in that.
As such, we're opening our minds a bit on the absolution connoted to Time's decree. With all of the honored individuals dubbed significant in 2012 by the likes of GQ, Barbara Walters, Entertainment Weekly, and Glamour, we have plenty of noteworthy people from which to pick. So who among them influenced you the most? Take your pick. 
The Associated Press' Entertainer of the Year: Adele
What you talked about this year: Powerful ballads about overcoming emotional turmoil. How awesome the new James Bond movie was. Secret babies. Heartbreak. 
Entertainment Weekly's Entertainer of the Year: Ben Affleck
What you talked about this year: Foreign affairs with the Middle East… specifically, circa the 1970s, and only those involving elaborate special operations wherein CIA agents pretend they're filmmakers. How this guy is really turning his career around. The question, "What's Casey doing these days?"
Barbara Walters' Most Fascinating Person of 2012: David Petraeus
What you talked about this year: Sex scandals. Old Jon Stewart clips. That episode of Seinfeld where George gets fired for having sex in the office.
Glamour's Man of the Year: Tom Hiddleston
What you talked about this year: The Avengers. Whether or not Thor 2 could be better than Thor. How you still haven't seen The Deep Blue Sea, but totally want to.
GQ's Man of the Year (and People's Sexiest Man of the Year): Channing Tatum
What you talked about this year: Shirtlessness, mostly.[Photo Credit: Time]
More:
20 Biggest Breakout Stars of 2012
Patti Smith Has Penned a Follow-up to 'Just Kids'
Bret Easton Ellis Tries to Apologize to Kathryn Bigelow, Fails Miserably
You Might Also Like:

20 Hot (and Horrifying) Movie Sex Scenes