Harper Lee Sues Her Agent for Stealing 'To Kill a Mockingbird' Royalties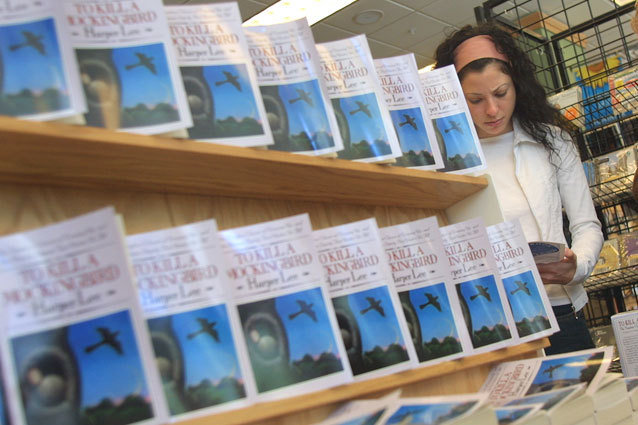 More than 50 years ago, author Harper Lee introduced the classic novel To Kill a Mockingbird, and in turn the character of Alabama attorney Atticus Finch. The clear-eyed Southern gentleman was all you'd want in a member of the legal system: honest, devoted, merciful, invigorated by the very tenets of justice. In other words, none of the things people imagine when they think of the average lawyer. And it's because while Atticus Finch might pave the way for liberty in the fictional Maycomb, the real world is cluttered with, shall we say, counsellors of less vivid moral fiber. We're reminded of this by the latest news facing an 87-year-old Lee, who is suing her former literary agent, his wife, and his lawyer for allegedly harboring undue commissions to her classic novel.
Mockingbird's masterful novel painted a courtroom imbued with the fiery issues of racism, abuse, and murder. The present account facing Lee — the writer who changed the lives of every ninth grader with the illustrations of these all-important themes — involves reports of a few people who tried to deprive an ailing octogenarian Pulitzer winner her money. According to Bloomberg, Lee is suing agent Samuel Pinkus, whom she relieved of his position as her literary agent in 2007, for continuing to collect To Kill a Mockingbird royalties that would rightfully belong to her. Also implicated in the case are Pinkus' wife Leigh Ann Winick, and his lawyer Gerald Posner, whose involvement is linked to his having incorporated one of Pinkus' businesses.
Lee's legal representative, Gloria Phares, highlights the author's present medical condition as making her an easy target for Pinkus' alleged scheme. "Pinkus knew that Harper Lee was an elderly woman with physical infirmities that made it difficult for her to read and see. Harper Lee had no idea she had assigned her copyright [to Pinkus]."
And so, we bemoan our real world defecit of Atticus Finches, knowing full well that we won't be hearing any righteous, awe-inspiring courtroom speeches in this or most other cases. Ah, to be 15 and enrapt in Lee's pages once more…
Follow Michael Arbeiter on Twitter @MichaelArbeiter
More:
Author E.L. Konigsburg Dies
How 'Ender's Game' Author's Anti-Gay Views Could Affect the Movie
Jason Segel Signs Children's Book Series Deal
---
From Our Partners:


What Happened to 33 Child Stars (Celebuzz)


40 Most Revealing See-Through Red Carpet Looks (Vh1)