Tom and Katie: The Craziest Divorce Rumors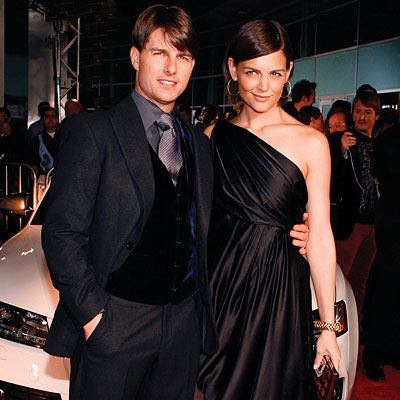 Whenever a high-profile couple splits up, the rumor mill starts churning at lightspeed. Multiply that lightspeed by 1,000, and you get the media sh**storm that's about to hit Tom Cruise and Katie Holmes, whose wacky lives have already made Brangelina seem normal by comparison. Countless outlets are undeniably scrambling to find some "reliable" sources close to the couple this very second, leading to rumors that won't be confirmed or denied until Holmes has her first multi-million sit-down with Barbara or Diane once the dust has settled. Some of these rumors have already caught internet fire, and we've rated the most scandalous ones below:
Their 5-Year "Marriage Contract" Expired
Plausibility: 4. Rumors of a contract have plagued the couple for years, but no one has ever seen a copy of the damned thing. As Brian Moylan reported earlier today, the National Enquirer says there's a 100-pager out there that's worth about $600 million. But this is according to their shady anonymous sources, who also say that Holmes received $3 million and a $35 million Beverly Hills mansion just for giving birth to Suri. We'll give it a lowly four because the couple is famously strange, but most reports say that the contract called for two children, and Cruise's representatives have vehemently denied the rumor. Basically, we'll believe it when we see it.
Scientology is to Blame
Plausibility: 7. Religious differences leading to a couple's demise? More than understandable, especially when the religoso in question is the notoriously devout Cruise, who happens to subscribe to a very demanding and possessive religion:
Adding a child to the mix would certainly further complicate any religious differences, and this is especially true for the Cruises, as Suri is now at an age (6) where she can begin to develop and study different religious beliefs. Holmes should have seen this one coming, but the fact that she filed for sole custody all the way in New York, where the courts tend to favor mothers, shows that she's serious about keeping Suri away from her father. Both of Kidman's children with Cruise reportedly practice Scientology, and the media hasn't been quiet about the fact that Holmes never seemed to fully latch on. (She was raised Catholic.) We give it a seven because we're not sure if Scientology was the sole cause, but it's highly likely that the church had something to do with their split.
Katie Filed Because Tom Ruined Her Career
Plausibility: 5. Well, it's true that Holmes was a pretty hot commodity when she began dating Cruise, having recently starred in the well-received Pieces of April and Batman Begins. Then her role in the Batman sequel was recast, and Cruise was reportedly to blame. Her star has shined much less brightly ever since, and decent roles have been few and far between. But she did star in Jack and Jill in 2011, and that's Hollywood.com's own Kate Ward's favorite movie. It's believable that Holmes would want to break free from Cruise and his possessive tendencies, but doubtful that career motivations are entirely to blame. 
The Magic Number 3: All 3 of Tom's Divorcées Were 33 When They Split
Plausibility: 10. This one is true, folks. Mimi Rogers was 33 when the couple broke up in 1990, as was Nicole Kidman during their very public 2001 demise. Today, fans took notice when they realized that Holmes is currently at Cruise's cutting-room age. 20-something successful Hollywood actresses, take note!
Follow Shaunna on Twitter @HWShaunna
MORE:
Tom Cruise and Katie Holmes Are Getting a Divorce
Tom Cruise and Katie Holmes Divorce: A Look Back at Their Craziest Moments
Tom Cruise and Katie Holmes: The Five Craziest Marriage Rumors