Tom Cruise and Katie Holmes: The Five Craziest Marriage Rumors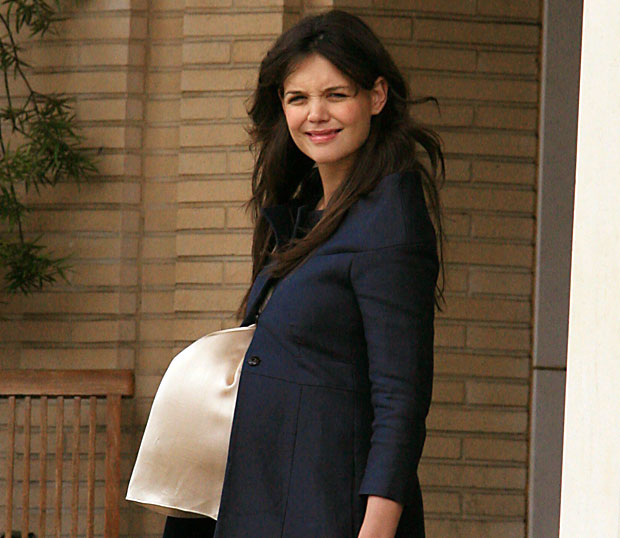 From the moment Tom Cruise and Katie Holmes announced they were romantically involved (and Tom Cruise got all hippity-hoppity on Oprah's couch), the rumors about the legitimacy (and illegitimacy) of their union have been crazier than Cruise's six pack in Rock of Ages. In honor, or in mourning, of their just announced divorced, here are the six craziest rumors that we heard about their romance.
It's All a Contract
The easy joke to make about TomKat is that the Kat half of the couple was contractually obligated to marry him and that she was doing it so that she could be more famous and have a great movie career (even though that didn't really work out for her). According to the National Enquirer, there was a 100-page contract worth about $600 million dollars that Holmes had to sign before their nuptials. Apparently Holmes would get $70 million for the first year of marriage, plus another $10 if she made it to the five year mark. If this "contract" is to be believed (and, let's be clear, it's not), she is now without a husband but with $80 million smackeroos.
Holmes Wasn't Cruise's First Choice
If running under the assumption that Cruise chose a mate not based on romance but based on some sort of PR obligation, then he might have gone shopping for a starlet before deciding on Holmes. This Fox News column (and we all know how reliable they are) claims that Cruise interviewed Jennifer Garner, Kate Bosworth, Lindsay Lohan (ha!), Jessica Alba, and Scarlett Johansson before settling on Holmes. 
Tom Cruise Was Responsible for Katie Holmes' Mouth Sores
It doesn't come right out and say it, but this Page Six item from 2008 seems to heavily suggest that Cruise gave both Holmes and ex-wife Nicole Kidman herpes of the mouth, because they were both spotted with cold sores around the same time. 
Holmes is Brainwashed
Gossip mongers have claimed that Holmes, who was raised Catholic but later converted to Scientology when she married Tom, was somehow brainwashed by the religion. An article from supermarket staple Star from last year claimed she was addicted to Scientology. The tabloid alleged that the e-meter, a device that Scientologists use during a process called auditing where they divulge their secrets, emits a low-dose electrical pose which causes a heroin-like effect in the user. Holmes sued the tabloid after seeing its cover, and Star later settled with the actress.
Suri Cruise's Real Father Is L. Ron Hubbard
Celebrity biographer Andrew Morton's unauthorized book about Cruise, which was released in 2008, has many allegations concerning Cruise and his attachment to Scientology. The craziest of which is that Suri Cruise, Cruise and Holmes' daughter, was conceived using the frozen sperm of Scientology founder L. Ron Hubbard, not Cruise's seed. Of course, the Cruise camp denied the accusation.