Tom Hanks Talks 'Captain Phillips,' Mustaches, and His Favorite Films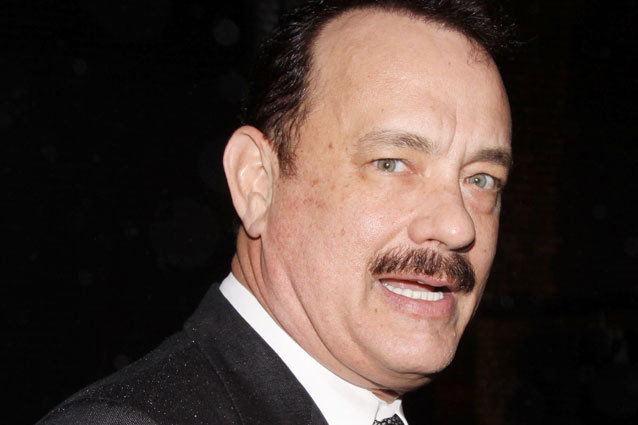 Joseph Marzullo/WENN
Tom Hanks is reportedly more of a fan of typewriters than the internet, and he told Reddit that he "abhors self-promotion," but it didn't stop him from doing an Ask Me Anything on Reddit Monday night. Tom was dignified and guarded, unlike some of Reddit's other guests, which seemed fitting for the poised and old-fashioned actor. Here are some of his best responses. 
His favorite movie that he hasn't acted in:
"Recently, Looper. And Das Boot the directors cut." 
On whether he's answering the AMA on a typewriter: 
"I wish."
On how far his Forrest Gump body-double and real-life brother Jim ran in the movie: 
"In Montana and south carolina. a few hundred yards in slo-mo."
How long he'd make it on a deserted island: 
"I'd make it a week and a half."
The classic movie he would have liked to be in: 
"2001: A Space Odyssey"

A theme park ride he'd like to see made: 
"The Captain Phillips Life-Boat Launch Experience."
The message he'd send himself at age 30: 
"Floss more often."
The type of food that he'd choose to eat for the rest of his life: 
"The Japanese food seems good for you…"
Some previously unknown movie trivia: 
"I had a terrible case of the flu shooting the football scenes in Gump"
On how rejection feels: 
"Crummy. Very crummy."
A time when he's gotten emotional on-set: 
"When LT. Dan introduced Forrest to his wife, with his titanium legs, i burst into tears…"
On how Hooch from Turner and Hooch is doing: 
"All the dogs who played hooch – all four of them – went to dog heaven."
On That Thing You Do:
"It's the one movie I would love to make again."

His tips on mustaches: 
"Shave it off."
On the sequel to Apollo 13: 
"Apollo 14?"
On the mixed criticism surrounding Cloud Atlas: 
"Nothing effects the love of making a movie – particularly CLOUD ATLAS. It will be around for ever…"
His favorite type of music: 
"Give me three guitars, a piano, and a good drummer and I'm done."

A glimpse into his dark side: 
"I relish Aston Villa victories."
Advice on acting: 
"Show up on time. Know your lines. Have and idea of what to do in the scene. the rest will take care of itself."
The last song he had stuck in his head:
"It's a Great Big Beautiful tomorrow from Disney's Carousel of Progress."
Why he chose to do the AMA: 
"Scott Rudin suggested it and my kids said I had to. I like it."
Read the rest here. 
More: 
Tom Hanks Was In That? Really?
Tom Hanks In 'Captain Phillips' Trailer
Tom Hanks, Ron Howard Return For Dan Brown's 'Inferno'
---
From Our Partners:


40 Most Revealing See-Through Red Carpet Looks (Vh1)


15 Stars Share Secrets of their Sex Lives (Celebuzz)