Tony Romo Beats Jessica Simpson to Delivery Room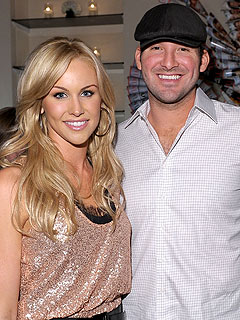 Jessica Simpson's ex Tony Romo will be tackling parenthood before Simpson, who is expecting too. The Dallas Cowboys quarterback and his wife Candice Crawford welcomed their first child — a boy named Hawkins Crawford Romo — on Monday, his NFL colleagues confirmed on the team's Twitter page.
"Congratulations to Tony Romo, proud papa of Hawkins Crawford Romo," the social media statement read. "Born yesterday at 5:30pm. 8 lbs 8 oz."
The 31-year-old football star and Crawford, 25, married in May 2011 and announced the pregnancy in October. Crawford's elder brother, Gossip Girl star Chace Crawford, recently told Us Weekly that his brother-in-law, Romo, is gearing up to be the best dad ever.
"He's over-the-moon excited about it," the actor stated. "He's just such a wonderful person… he was born ready to have a family, you know what I mean? So it makes perfect sense."
Poor Jessica Simpson. She is due any day now, but Romo beat her to the hospital. When-oh-when is it going to be her turn?
Congratulations to the Romo and Crawford on their joyous news!
More:
Even Jessica Thinks It's Ridiculous You're Calling Her Fat
It's A Boy For Jennifer Garner and Ben Affleck!
Reese Witherspoon, Jessica Simpson & Beyoncé: Meet the New Parents of 2012