5 Great Hip-Hop Mixtapes of 2013 (So Far)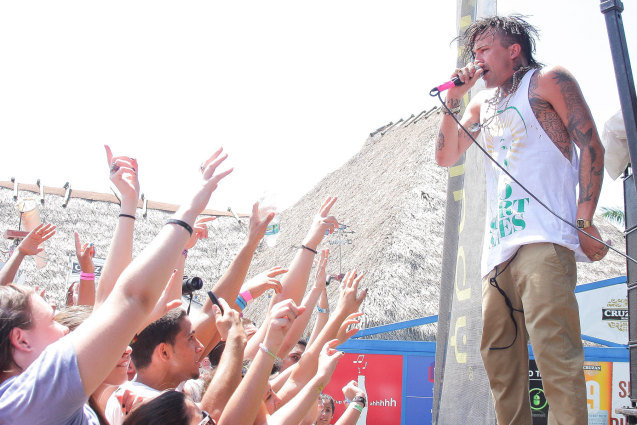 Aruna Gilbert/ WENN
Whoever said that the best things in life are free must've been jamming to a mixtape. The joy of trying to save cassette tape from being eaten up by a 1988 stereo may have passed us by, but digital mixtapes still have the best components of their predecessors: free samples of new music from our favorite artists. There's only a few months left of the year and artists releasing new mixtapes will have a lot to live up to, since 2013 saw the release of tons of great new music in the hip hop world. The latest mixtape to hit the web waves is Lil Wayne's Dedication 5, finally released on September 1 after a 36-hour delay. Though it's too soon to say how well Lil Wayne's newest effort will hold up against other releases slated to come out this year, here's a rundown of some of 2013's best mixtapes thus far.  
Yelawolf: Trunk Muzik Returns
After his 2011 debut album Radioactive, Yelawolf came back with a vengeance (and a killer beard). Produced entirely by WillPower, Trunk Muzik Returns features Yelawolf's trademark polished, 100mph flow set against some of the most refreshing beats that have been heard in rap lately. With contributions from A$AP Rocky, Raekwon, Paul Wall, and more, it's safe to say Trunk Muzik has most definitely made its return.
Standouts: "Firestarter," "F.A.S.T. Ride," "Catfish Billy"
Harry Fraud: Adrift
After working with French Montana for the infectious "New York Minute," wonderboy producer Harry Fraud quickly rose to become one of the most sought-after producers in the hip hop scene. He released Adrift in March 2013 as a prequel to his High Tide EP, which was released a month later. The mixtape is a diverse compilation of songs that Fraud produced over the last year, showing his prowess as a producer and his knack for putting a NYC stamp on everything he does. Adrift features unreleased tracks from numerous rappers, including Chinx Drugz, Danny Brown, Action Bronson, and tons more.
Standouts: French Montana – "Lay Low," Young Roddy – "4 The Money," Adrian Lau – "Sunday"
Big K.R.I.T.: King Remembered In Time
Who knew electric guitars and crying babies could make for a kickass album intro? Big K.R.I.T., that's who. The Southern rapper dropped King Remembered In Time earlier this year to rave reviews and is continuing to carve out place for himself in the rap world. Big K.R.I.T. has already proven that he's rather ambitious when it comes to sampling and King Remembered In Time is no different: the mixtape has samples from everyone from James Blake to Cody ChestnuTT working seamlessly against his skillful spits. King Remembered In Time features the likes of Wiz Khalifa, Trinidad Jame$, Ashton Jones, and Future.
Standouts: "REM," "Serve This Royalty," "Life Is A Gamble"
Chance the Rapper: Acid Rap
At only 20 years old, Chance the Rapper has already made an impressive mark in the rap world. The former suspended-from-high-school student turned Chi-town rapper has a uniquely chameleon vocal delivery that changes as quickly as a teenager's mood. Chance sounds like a nervous first-timer at open mic night, a Tiny Toons character with an overabundant helium supply, and a matter-of-fact raconteur all within the thirteen-song mixtape. Including kickass collabs with Action Bronson, Nate Fox, and Noname Gypsy, Acid Rap is definitely one of the mixtapes of the year.
Standouts: "Juice," "Acid Rain"
The Underachievers: Indigoism
Repping the Beast Coast movement strong is Issa Dash and AK, aka The Underachievers. The Brooklyn duo started to drop tracks in 2012 on YouTube and signed with Flying Lotus' Brainfeeder record label not too long after. Their debut mixtape, Indigoism, was released in February of this year and firmly put The Underachievers on map of new NYC talent to look out for. The lauded Indigoism is full of conscious, spiritual, and hard rhymes, all spat out at 500 words per minute (because really, who needs breathing?).
Standouts: "So Devilish," "Herb Shuttles," "Land of Lords"
More:
5 Debut Albums To Get Excited About
5 Overlooked Songs of the Summer
Is Rock Music Dead?
---
From Our Partners:


40 Most Revealing See-Through Red Carpet Looks (Vh1)


15 Stars Share Secrets of their Sex Lives (Celebuzz)