EXCLUSIVE: Torrey DeVitto on 'Pretty Little Liars' and More!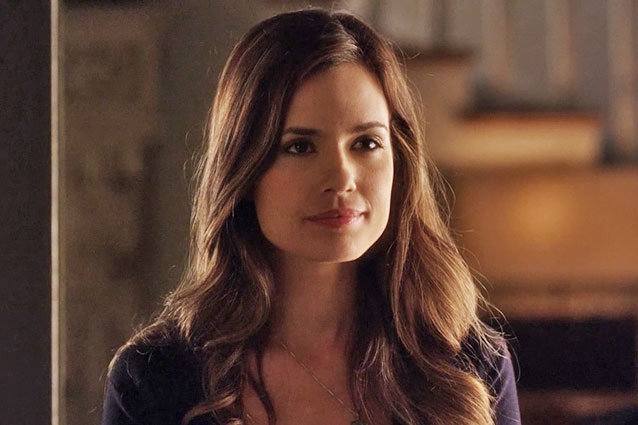 ABC Family
Who couldn't fall in love with television's not-so-sweet sweetheart? Torrey DeVitto tells Hollywood.com about playing the sometimes nice, sometimes bat s**t crazy characters on TV's most popular shows. She has left her mark on pop culture portraying Melissa Hastings on Pretty Little Liars, Dr. Meredith Fell on The Vampire Diaries and the unforgettable Nanny Carrie on One Tree Hill – and somehow she still finds the time to try to save the world.
Pretty Little Liars, Vampire Diaries, Army Wives? How did you manage being on three of television's most popular shows?
I felt really fortunate being able to work on 3 really popular shows these last couple of years.  Luckily for the most part, none of the shows filmed at the same time. I have realized sometimes I do better working under a crazy schedule. It gives me less time to over think things and forces me to be present.
Do you find it strange that your characters seem to have a bit of a tick to them? They seem one way and then turn out completely surprising the audience.
I do find that a bit strange! I was worried for a while that it was some sort of reflection of me that all I seemed to be getting were these characters that were a tad bit loony. But I love it. Those are the most fun characters to play! It gave me the opportunity to really do something rather than just show up, say my lines and then leave.
Are you ever surprised by the roles your characters tend to take?
Not anymore. I've gotten pretty used to it – as has my family. It used to really surprise my poor grandmother that in one way or another I would end up psycho or evil, but now even she's used to it.  
When will we see you again on Pretty Little Liars?
I go back into filming next week!
You recently went to Africa to film a documentary with hospice. Can you tell us about it?
I have been volunteering with hospice for about 6 years now. Going to Africa was being able to take my volunteering and my passion for hospice one step further.  The documentary we were filming is called 'The Road to Hope'. It's a sort of follow up to the last documentary they did called 'Okuyamba'.  It follows child caregivers. These children take care of their moms and/or dads while they are dying and then once they are gone have nowhere to go and no money. No one willing to take care of them. The title 'road to hope' comes from an actual organization that was started by the National Hospice Foundation and PCAU (palliative care association of Uganda). Road to Hope is an organization that helps get those kids back in to school and helps find them a place to live. Doing these interviews and meeting these children was not just heart breaking, it was inspiring. It really puts life into perspective and makes you want to better yourself. I met some of the most amazing people during this trip. It's a time in my life I will never forget.
For more info go to: roadtohopefilm.org
Who has been your favorite role?
Funnily enough, nanny Carrie (One Tree Hill) is still one of my top favorite roles. I just had so much fun, and I felt like it was the first time that someone really gave me something to sink my teeth into and take risks with.
I hear you have one of the most recognizable Chihuahuas on Twitter.
I do have the most adorable little Chihuahua mix. I adopted him about 3 1/2 years ago from Much Love pet adoption, and he has been the love of my life ever since. His name is Beau, or as my sister and I like to call him ' mushy mush' because he truly is just a pile of loving mush that just melts in your arms.
What's next for Torrey DeVitto?
Next up is I'll be going back to Pretty Little Liars for a bit, and you can still check out a movie I did called Evidence with Stephen Moyer OnDemand.