Tupac's Hologram Appearance at Coachella Tops Festival's Highlights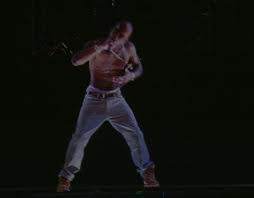 Whether you were watching from the comfort of your home with envy/relief that you weren't there or dancing amongst the thousands of sweaty and unbearably trendy music fans (including spotted celebrity attendees like Josh Hutcherson, Katy Perry, Fergie, Emma Roberts, Aaron Paul, Joe Manganiello, Joshua Jackson, Vanessa Hudgens, Colin Hanks, Paris Hilton, and David Hasselhoff) that made the pilgrimage to Indio, California, the first weekend of the 2012 Coachella was one that had to be seen to be believed. With a powerhouse line-up that included the likes of Radiohead, Pulp, Gotye, Florence + the Machine, The Black Keys, Santigold, Feist, and Dr. Dre & Snoop Dogg, whose cameo-filled set (including, yes, the late Tupac Shakur) has everyone talking, here's the best and the worst of what Coachella has had to offer so far.
Blame it on Friday the 13th that Coachella's first day (April 13) got off to a soggy start when the festival grounds were hit with rainstorms, but that still didn't dampen the spirits of eager concertgoers. Friday's eclectic line-up ushered in buzzed-about sets from Neon Indian, M83, The Arctic Monkeys, and the aforementioned Pulp, who have reunited to play their first shows in the United States since 1998. (Before heading westward to Coachella, the Brit rockers played two sold-out shows in New York City last week.)Watch Pulp's Coachella performance of their crowd-pleaser "Common People" below:
The high energy from Friday's sets spilled over into Saturday, whose headliners Radiohead wowed festival-goers for nearly two hours with a set list that included "Karma Police," "Bloom," and "Paranoid Android" (their entire concert is available to watch on YouTube in case you missed it) capped off a day that included solid turnouts from Bon Iver, David Guetta, Kasabian, and Community star Donald Glover (better known to the rap community as Childish Gambino) who performed with a broken foot during his set. Watch his NSFW "You Know Me" performance with special guests Kendrick Lamar and Danny Brown:
But there was no hip hop performance more talked-about (or any other set, for that matter) than when rap legends Dr. Dre and Snoop Dogg late Sunday night. While earlier standouts had included a fresh-off-their-SNL debut Gotye and a surprise performance from Rihanna during her "We Found Love" collaborator Calvin Harris' set, the introduction of hologram Tupac (move over, Will.i.am) closed out the first weekend of Coachella in a most unbelievable fashion.
Towards the latter end of their 23-song set, which featured appearances from the likes of Eminem, 50 Cent, and Wiz Khalifa, Coachella's most unexpected guest, a hologram of the late Tupac Shakur took to the stage to perform "Hail Mary" and "2 of Amerikaz Most Wanted" alongside the rap superstars. A voice used for the video game-like image of the Shakur, who died in 1996, addressed the crowd, "What the f**k is up Coachella?" before beginning the song. Innovative? Tasteless? More fodder for conspiracy theorists? Watch the the resurrection of Tupac as a hologram from Sunday night's Coachella below and decide for yourself:
It's hard to imagine how, or what, will top hologram Tupac Shakur when the music acts from this past weekend are scheduled return on Friday for the festival's second weekend. But at this point, when it comes to Coachella it's probably best to expect the unexpected. Were you at Coachella this weekend or did you watch from home? Will you be heading to this weekend's concerts? Which performance(s) blew you away and which ones were you underwhelmed by? Did hologram Tupac trip you out? Seriously though, what just happened? Sound off in the comments section!
[Photo credit: YouTube]
More:
Emma Roberts and Chord Overstreet Show Off Love at Coachella
Charlie Sheen Releases Single with Snoop Dogg