There is a Scholarship for 'Best Twerker,' Because This is the World We Live In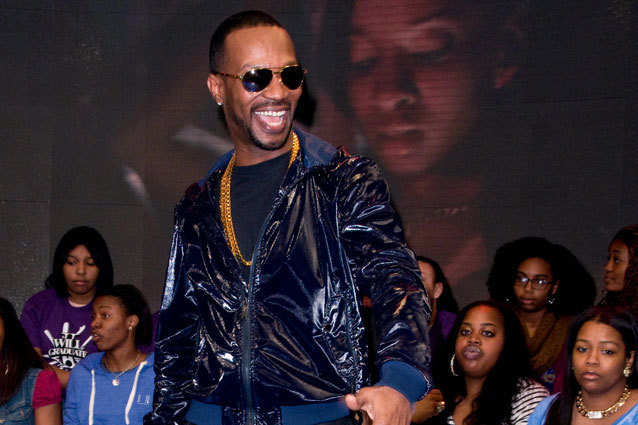 WENN
Well, twerking has officially taken over America. According to Billboard, rapper Juicy J has promised a scholarship to the woman who twerks the best, and New Orleans bounce artist Big Freedia is planning to attempt to set a Guinness World Record for twerking. That's a lot of dancing butts, people.
Juicy J is offering $50,000 to a female college student between the ages of 18 and 25 who shows extraordinary talents in the areas of twerking. Applicants must upload a video to YouTube of themselves twerking to the rapper's track "Scholarship." Meanwhile, on Sept. 25 in Manhattan's Herald Square, Big Freedia is teaming up with Fuse to host "Record Breaking Booty Shaking: Break the GUINNESS WORLD RECORDS® Twerk Record with Big Freedia." The event will include over 250 dancers twerking for two minutes. 

Now, twerking is nothing new. It has been a style of dancing since before Miley Cyrus was old enough to shake what her mama gave her (which, granted, isn't much), but Cyrus' MTV VMA performance brought the Southern craze to the center stage of society. However, according to Fuse, it doesn't sound like Big Freedia is quite ready to include the ex-Disney star in her twerking world record event anytime soon. 
"She was going too far," said Big Freedia in an interview with Fuse. "She's trying to twerk, but don't know how to twerk. It's become offensive to a lot of people who've been twerking and shaking their asses for years, especially in the black culture … When something get hot, everybody want to jump on the bandwagon and act like they created it. That's totally understandable but they have to give credit where credit is due."
Did you get that Miley? You might want to leave the twerking to the professionals from now on.
More:
2013 MTV VMAS: Miley Cyrus Pioneers the Movement to Sexualize Teddy Bears
Sexy Dance Crazes (That Aren't Twerking)
We Interrupt This Broadcast So Morgan Freeman Can Talk About Twerking
Follow @hollywood_com  
Follow @CaseyRackham
---
From Our Partners:


A Complete History Of Twerking (1993-2013) (Vh1)


15 Stars Share Secrets of their Sex Lives (Celebuzz)