Twitter Music Actually Has Really Weird Taste in Music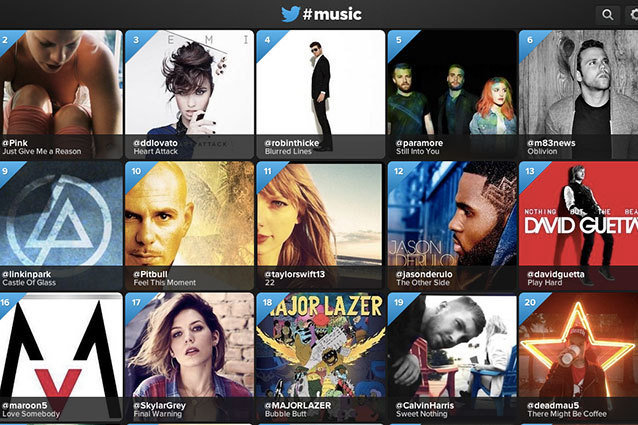 Twitter's just made their biggest move yet in their attempt to become a holistic communication/entertainment experience. The social media giant has unveiled Twitter #music (yes, that's the official punctuation), a service found at music.twitter.com and also as an iPhone app through iTunes, that allows users to listen to music from their favorite artists, share tracks, and also receive customized recommendations based on what artists you're following and what they're listening to.
The service and app are powered by iTunes, Rdio, and Spotify, meaning that you can listen to just about anything. Songs from iTunes are still limited to 30- or 90-second samples, however. What the service really amounts to is a major one-up on the ability to share suggestions and Spotify playlists on Facebook. Through Facebook, the links still direct you to another site, but with Twitter #music you can listen directly through the website and app. It removes a step from the process. Of course, you do need preexisting iTunes, Rdio, and Spotify accounts for this to work, but since Twitter #music allows you to search all three simultaneously, you have access to a much bigger library of music than by using any one of those services individually.
The Twitter #music interface is about as intuitive as it gets. A dropdown box on the upper left corner allows you to toggle between a list of album cover tiles indicating the most "Popular" tracks currently trending on Twitter and tracks from "Emerging" talent curated by Twitter that feature smaller acts that need a social media assist. A #NowPlaying page allows you to see what the people you're following have been listening. And a "Suggested" page culls song choices based on what the people you're following have listened to and generates similar options.
If you don't follow any music superstars, like me, that may be a problem for you. You'll end up with your "Suggested" page being totally blank. Basically, what this amounts to is a way for artists to streamline and monitor the sharing of their music… and have a new channel by which to promote themselves. In fact, Twitter's beta testing for the service was open exclusively to established music artists, as a way of selling them on the service and letting them know that this could be a good way to directly connect with fans and disseminate new tracks. That led to some pretty major shilling, such as from Tommy Lee, who last week tweeted, "Just got the Twitter #music app!! WAIT til ya see this s***!! it's epic!."
Unfortunately, some bugs have arisen that call into question the effectiveness of the "Suggested" music function. Since it pulls music from artists you're following and music that the artists you're following are themselves listening to, you can end up with some funky choices, like this: 
The @twittermusic app thinks I might like @mchammer.

— Mary Catherine(@mcwellons) April 18, 2013
Which means that the "Suggestions" page isn't so much tailored to the individual user as it to discover your favorite artists' favorite artists. Kind of like those celebrity "On My iPod" features you see in magazines every now and then.
No matter what, Twitter #music suggests that the next big trend in social entertainment is consolidation. Your move, Facebook.
Will you be using Twitter #music? And have you already been getting some funky suggestions?
Follow Christian Blauvelt on Twitter @Ctblauvelt
More:
The Top 10 Fake Twitter Accounts of 2012
Amanda Bynes, Twitter Is Not a Court of Law   
5 Celeb Instagram Pics We'd Gladly Pay For 
---
From Our Partners:


Eva Longoria Bikinis on Spring Break (Celebuzz)


33 Child Stars: Where Are They Now? (Celebuzz)