Ukrainian Singer Sues Carly Rae Jepsen for Copying Her Song, "Hunky Santa"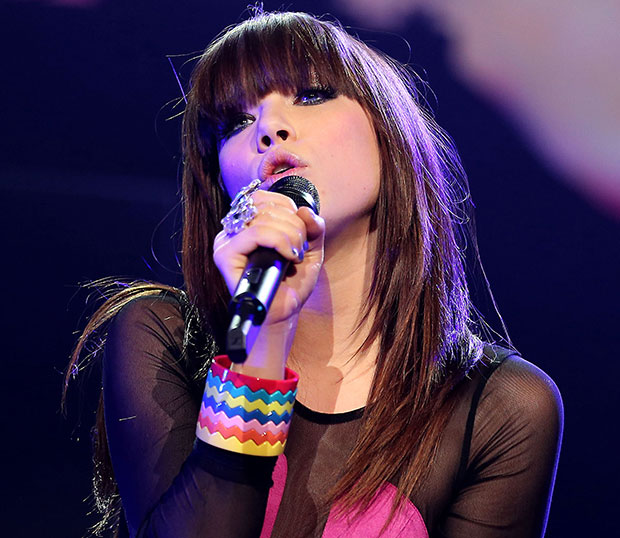 Carly Rae Jepsen needs to call a lawyer, no maybe about it. E! reports that Jepsen has been slapped with a copyright infringement suit by Ukrainian singer Aza for using one of her songs as the basis for "Call Me Maybe." Aza reportedly filed the claim in federal court in Los Angeles on Thursday.
E! News quotes a statement from Aza as saying, "I'm shocked and surprised that these people wanted to sample my lyrics on 'Call Me Maybe.' They didn't ask me for permission — they just stole it. That's why I filed this lawsuit. When I first listened to it on the radio while driving my car, I almost got into an accident. I couldn't believe what I was hearing."
It sounds like Jepsen could be in hot water… until you listen to Aza's song.
Aza's song is called "Hunky Santa." And it's a jingly jangly, hot slutty mess of a song. (The video features Aza wearing various styles of Santa lingerie, suggestively eating candy canes, and slapping a half-dressed man with a paddle, all while listing the things she wants for Christmas.) So where, one might ask, is the similarity to "Call Me Maybe"? At the begining of the song, Aza sings (or something),"Call me, here's my number." Whoa. Call the Honor Board, that's some serious plagiarism. "Call me" is not a colloquial expression at all.
While the song may be (as in totally is) a joke, the lawsuit is not. Aza is seeking unspecified damages and a court order barring Jepsen and her co-writers, Tavish Crow and Josh Ramsay, as well as Jepsen's label's CEO Scooter Braun (of Justin Bieber fame) from distributing, selling, reproducing, advertising or promoting "Call Me Maybe" anywhere in the world. Luckily, another look at Aza's video reminds everyone how obvious it is that all claims should be immediately thrown out.
Go ahead, watch the video that "inspired" Jepsen's megahit. They are so the exact same thing. 
Follow Abbey Stone on Twitter @abbeystone
[Photo Credit: Wenn]
More:
Justin Bieber and Carly Rae Jepsen's Very Unlikely Duet — LISTEN
'Glee' Releases Full 'Call Me Maybe' Performance, But Is It Cuter Than the Corgi Cover?
Carly Rae Jepsen: New Song, New Meme Potential?

Lady Gaga Dons Strapless Bikini Top, Waves to Fans in Brazil (PHOTOS)
(Celebuzz)