Unhappy Hour: Bic's Lady Pens, Clint Eastwood's Chair & 6 More Reasons We Need a Drink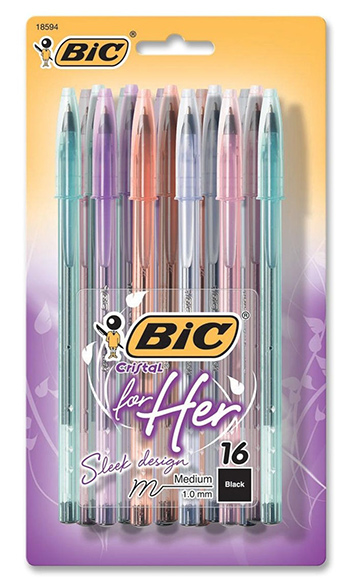 Each week, Hollywood gives us something to whine about, and the week of Aug. 20 was no different. We could make a drinking game out of this week, but that would be too dangerous. Instead, we'll stick to the usual formula: varying levels of alcoholic respite depending on how bothersome the week's issues are. Is your biggest complaint this week a flismy one? How about a light cocktail to take the edge off? Got a real bone to pick with a celeb or entertainment entity this week? Go ahead, grab a drink that'll put hair on your chest. Here are the week's entertainment stories that are forcing us to seek a bubbly or boozy refuge. And maybe an idea or two about how you should wash them down.
Take the Edge Off With Spiked Lemonade
Kelly and Dylan aren't actually dating.
Oh, they're doing a TV show together? Cool. But last time I checked, that's not how I pictured this going down when I was a tween.
The BDSM in Fifty Shades of Grey is wildly inaccurate?!
Sorry, ladies. Christian Grey is not an actual human possible in nature and that's not really what a BDSM relationship is like.
Get a Little Loose With Rum Punch
James Franco strikes again. Again.
Now he's (probably) blaspheming our beloved Princess Hermione, Emma Watson. Say it ain't so!
Shia LaBeouf is a bigger star than Tom Hardy.
All right, so this isn't technically news, but we saw Lawless and it's clear this truth is a crying shame.
It took until 2012 for MTV to put Jersey Shore out of its misery.
Either that, or it took Snooki becoming a mom. Either way, the day has finally come.
Let's Forget This Ever Happened With a Little Tequila
Taylor Swift still thinks she's 15, apparently.
This video full of cutesy kid stuff is a bit much, Swifty. Let's nip this thing in the bud, why don't we?
Bic thinks ladies need their own Lady-centric Glitter Pens
Oh my. I do declare, this general issue Bic pen does chafe my dainty little lady fingers. Thank the heavens Bic is thinking of us fragile girls!
Clint Eastwood mistook a chair for President Obama.
He is 80 years old, but I don't think there's any excuse for this.
Follow Kelsea on Twitter @KelseaStahler
[Photo Credit: Bic]