Unhappy Hour: Lance Armstrong, Joseph Gordon-Levitt's Shirt, & Six More Reasons To Drink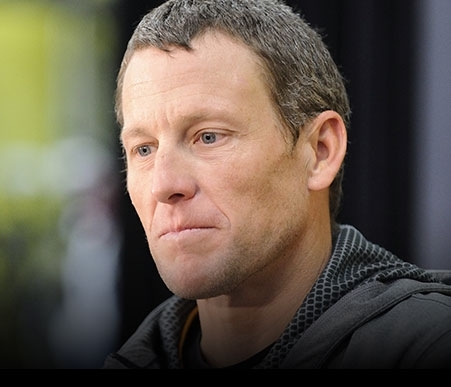 Each week, Hollywood gives us something to whine about, and the week of Aug. 20 was no different. We could make a drinking game out of this week, but that would be too dangerous. Instead, we'll stick to the usual formula: varying levels of alcoholic respite depending on how bothersome the week's issues are. Is your biggest complaint this week a flismy one? How about a light cocktail to take the edge off? Got a real bone to pick with a celeb or entertainment entity this week? Go ahead, grab a drink that'll put hair on your chest. Here are the week's entertainment stories that are forcing us to seek a bubbly or boozy refuge. And maybe an idea or two about how you should wash them down.
Take the Edge Off With a Light Beer
I mean, if you're going to leave one of your many, many, many cast members out, why pick one of the most well-known and buzzed about ones? Really, Fox. Really. 
But we've calmed down and come around. We know Joel McHale can't host everything. We're still learning to cope with that, okay? Give us a break. 
Get a Little Loose With a Pimm's Cup
Lance Armstrong Is No Longer a Seven-Time Tour De France Champ
The fact that this guy is even embroiled in this did-he-or-didn't-he-dope scandal in the first place is heartbreaking. But this news is a gut-punch.
We Didn't Spend Nearly Enough Time Talking About How Awesome LL Cool J is This Week
Jay Leno, You Don't Get To Be In On the NBC-Bashing Band Wagon
He's got jokes.
About NBC
. But he's a big reason we've all got jokes about NBC. So maybe he should cool it. 
Let's Forget About This Whole Mess With a Singapore Sling
Randy Travis, Stop It
AMC knew what was up. They knew we were done with this show. They saw our pain. The show, apparently, doesn't seem to agree. 
Joseph Gordon-Levitt Was Conspicuously Clothed Throughout Premium Rush