Home
Celebrities
Unhappy Hour: Manti Te'o Hoax Consumes Our Lives and 7 Other Reasons...
Unhappy Hour: Manti Te'o Hoax Consumes Our Lives and 7 Other Reasons to Drink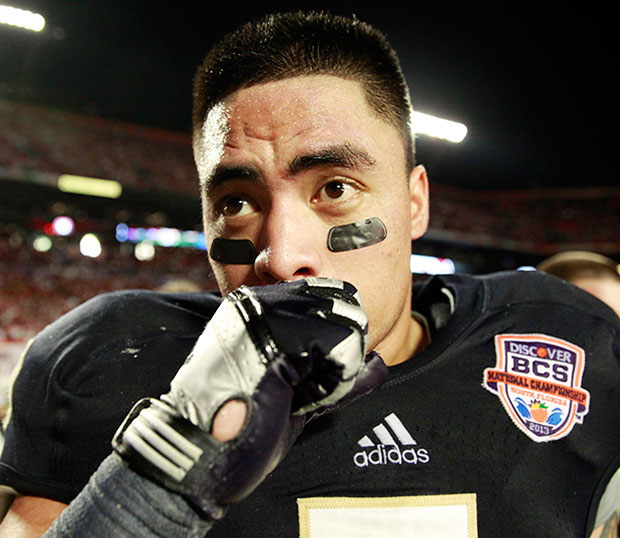 Each week, Hollywood gives us something to whine about, and the week of Jan. 14 was no different. We could make a drinking game out of this week, but that would be too dangerous. Instead, we'll stick to the usual formula: varying levels of alcoholic respite depending on how bothersome the week's issues are. Is your biggest complaint this week a flimsy one? How about a light cocktail to take the edge off? Got a real bone to pick with a celeb or entertainment entity this week? Go ahead, grab a drink that'll put hair on your chest. Here are the week's entertainment stories that are forcing us to seek a bubbly or boozy refuge. And maybe an idea or two about how you should wash them down.
Take the Edge Off With a Pale Ale
Really, Ashley Greene?
The Twilight star not only let someone tattoo her with a grammatical mistake, she clearly didn't even notice it because she tweeted the ink immediately.
Jennifer Lopez Doesn't Like a Picture Of Herself and It Makes Headlines
Meanwhile, I've been trying to get my friend to take down a picture of me stuffing my face with cheese at a Christmas party for a month and a half. You'll live, Ms. Lopez.
Anne Hathaway's Little "Look at Me!" Moment at the Golden Globes Really Irked Us
Anne, this is why I have to defend liking you as actress to half of my friends. Please stop.
Get a Little Loose With an Irish Stout
We Thought We Wanted to See Lance Armstrong Confess, But Now It Just Hurts Again
Why, Lance? WHY?
We're Having Nightmares That Someone Made Us Wear Sienna Miller's Golden Globes Dress
Look, we're not usually this mean, but what exactly was going on with that thing?
Apparently, It's Impossible to Interview Megan Fox Without Ogling Her
At least that's what this interview in Esquire seemed to prove. The girl has things to say, you know.
After Worrying For Months, It's Time to Admit That The New American Idol Judges Are Kind of Perfect
They're crazy, they're appropriately harsh, and they're the best thing that's happened to this show in a long time.
Screw It, Give Me the Double IPA
What Day Is It? Did I Go To Work Yesterday? Is It Still January? I Got Lost in a Manti Te'o Internet Blackhole
Trying to understand the fake girlfriend hoax heard 'round the interwebbian world is like trying to understand the meaning of life: the answer is always changing. Every single day a new piece of this puzzle unfolds and every time, it forces us to grab our hair, scream and cry, and pound our heads on the table. This is basically, the best, most ridiuculous, never-ending sports story ever.
Follow Kelsea on Twitter @KelseaStahler
[Photo Credit: Getty Images]
More:
Kathryn Bigelow's Oscar Snub, Al Roker's Pants, and more
'Evil Dead,' Azealia Banks, and more
'The Walking Dead,' NRA Aims at Movies, and More

Craziest Celebrity Swimsuits (Celebuzz)