Unhappy Hour: 'Sons of Anarchy' Loses a Biker and 7 Other Reasons to Drink This Week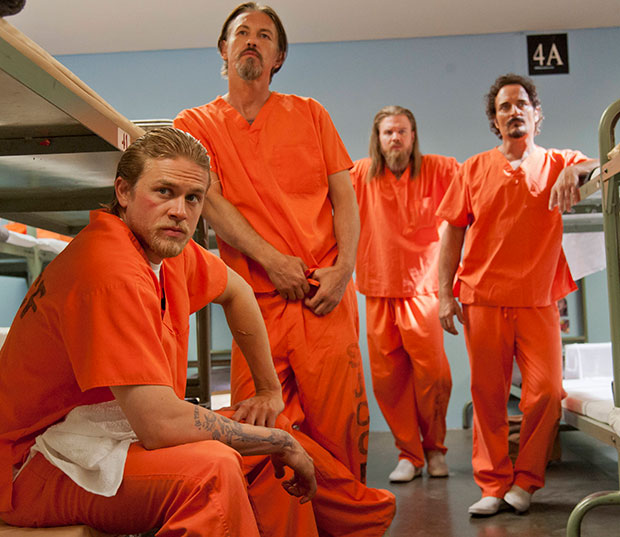 Each week, Hollywood gives us something to whine about, and the week ending Sept. 29 was no different. We could make a drinking game out of this week, but that would be too dangerous. Instead, we'll stick to the usual formula: varying levels of alcoholic respite depending on how bothersome the week's issues are. Is your biggest complaint this week a flismy one? How about a light cocktail to take the edge off? Got a real bone to pick with a celeb or entertainment entity this week? Go ahead, grab a drink that'll put hair on your chest. Here are the week's entertainment stories that are forcing us to seek a bubbly or boozy refuge. And maybe an idea or two about how you should wash them down.
Take the Edge Off With a Glass of Sangria
As much as we love Looper, time travel makes our heads hurt.
Time travel is confusing and convoluted and there are too many rules — except when there are no rules, which might be even worse. If we knew how to explain time travel, it would probably be a reality by now
Amanda Bynes fails again, this time by missing her court date. 
It's not so much the situation itself that makes us groan, but the fact that Amanda Bynes was in the news again. 
Christina Aguilera's "Your Body" music video is … questionable;
Girl, who told you those outfits looked good? And where are your pants? And don't know that that glitter never comes off your clothes or washes out of your hair? This video raises so many questions. 
Get a Little Loose with a Hot Toddy
Half of the original Beach Boys got the axe. 
After 50 years together, The Beach Boys's founding member Mike Love decides to kick out Brian Wilson, Al Jardine, and David Marks. Can you even do that?
The new Bachelor was revealed, and it's another boring white guy from the South. 
Sean Lowe, from Emily Maynard's season of The Bachelorette, may be the sweetest guy ever, but that doesn't mean he'll make for interesting TV. Say it with me, "We want Lochte! We want Lochte!"
J.K. Rowling released her first post-Harry Potter book, but it might not be fit for the big screen. 
The Casual Vacancy will undoubtedly become a bestseller, but that doesn't mean it will make a good movie. Why are all these people so terrible? With all these scars — emotional and physical — there was really no room for one shaped like a lightning bolt?
Let's Forget This Ever Happened with Tequila Shots
We lost one of our favorite Sons of Anarchy characters. 
And it was brutal. 
Another Sons of Anarchy actor died in real life, and might have been a murderer. 
No jokes to be made: this is genuinely terrible news.
We learned that Lexie Gray wasn't the only member of the Seattle Grace team who didn't survive the plane crash. 
Oh McSteamy, you will be missed.
Follow Abbey Stone on Twitter @abbeystone
[Photo Credit: Prashant Gupta/FX]
More Unhappy Hour: